Feb. 12, 2018
By AMANDA POPE
Staff reporter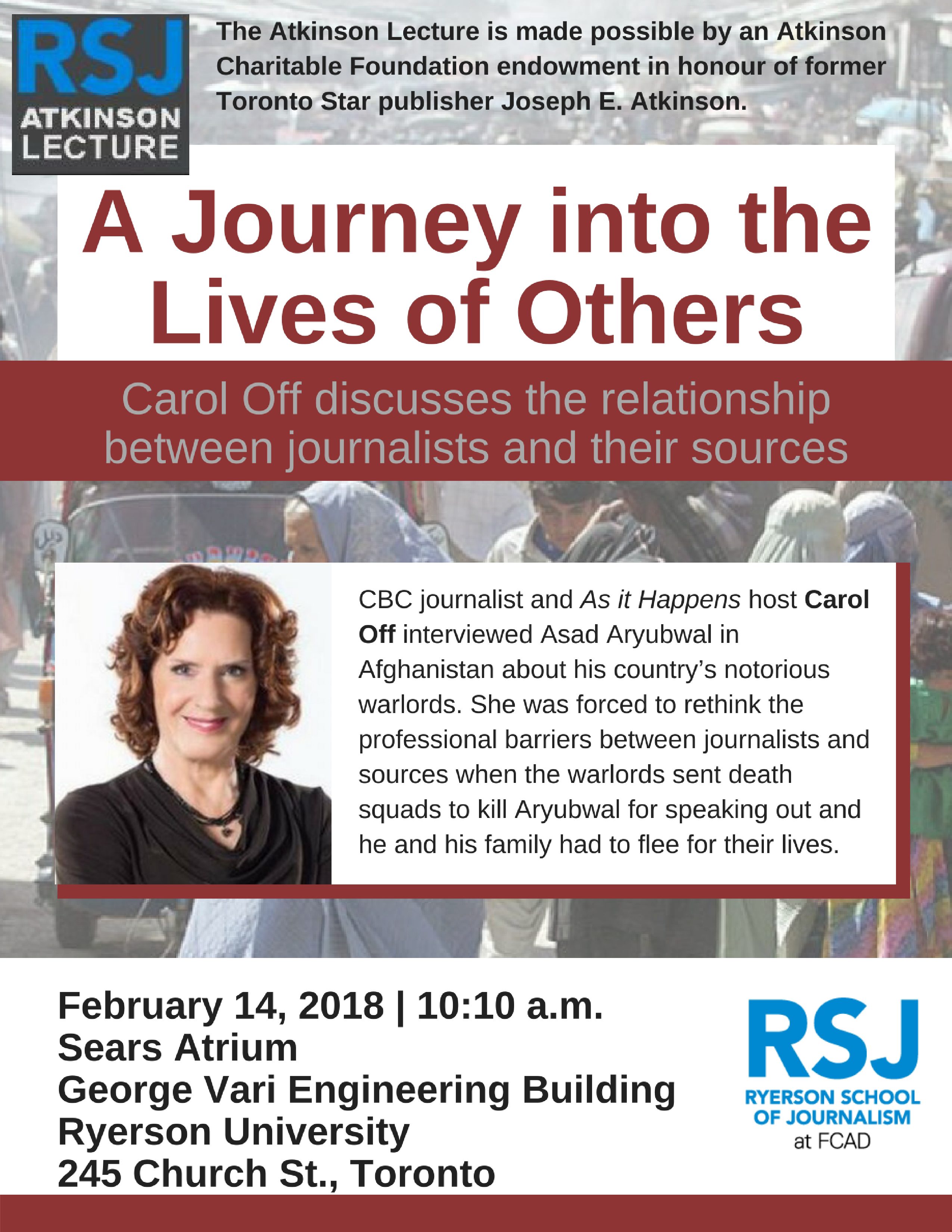 CBC journalist and As It Happens host Carol Off will explore the relationship between reporters and sources when she delivers the annual Atkinson lecture at Ryerson University's School of Journalism on Feb. 14.
During the public lecture Off will draw upon her new book All We Leave Behind, which documents her experience interviewing Asad Aryubwal in Afghanistan about his country's notorious warlords. She was forced to rethink the professional barriers between journalists and sources when the warlords sent death squads to kill Aryubwal for speaking out. He and he and his family had to flee for their lives. Nearly a decade later, with Off's help, they finally found refuge in Canada.
"Professional barriers between journalists and sources are being challenged," said Janice Neil, the chair of the RSJ. "Now there is more transparency and the journalistic process is becoming a lot more visible to sources and people outside of journalism than it was before."
The Atkinson lecture, made possible by an Atkinson Charitable Foundation endowment in honour of former Toronto Star publisher Joseph E. Atkinson, traditionally draws both members of the public and the journalism community. Last year's lecturer was Buzzfeed's Craig Silverman who discussed issues related to fake news and trust in the news media. Former journalist Dr. Marie Wilson has spoken about news coverage of Indigenous issues from her perspective as one of the three commissioners on Canada's Truth and Reconciliation Commission. Toronto Star reporter and author Michelle Shephard lectured on journalism and national security reporting, while Toronto Sun editorial cartoonist Susan Dewar discussed freedom of expression and editorial cartooning in the aftermath of the 2015 attacks on Charlie Hebdo.
"When you look at the range of speakers and the topics discussed," Neil said," the relationship between sources and journalists certainly falls within the Atkinson lecture's focus on social justice issues."
Off's willingness to write about her decision to set aside the traditional role of reporters as disinterested observers is important for journalists to understand, Neil said.
"I hope students come away with an understanding of how things are not necessarily black and white," Neil said. They will hopefully leave with an appreciation of how big these questions are, how deeply they need to be thought about and (how) the answers may be different from what you have always expected."
The lecture will take place on Feb. 14 at 10 a.m. in the Sears Atrium inside the George Vari Engineering and Computing Centre at Ryerson University. It can also be watched live by clicking here. There will be a reception following the lecture.