Feb. 5, 2018
By AMANDA POPE
Staff reporter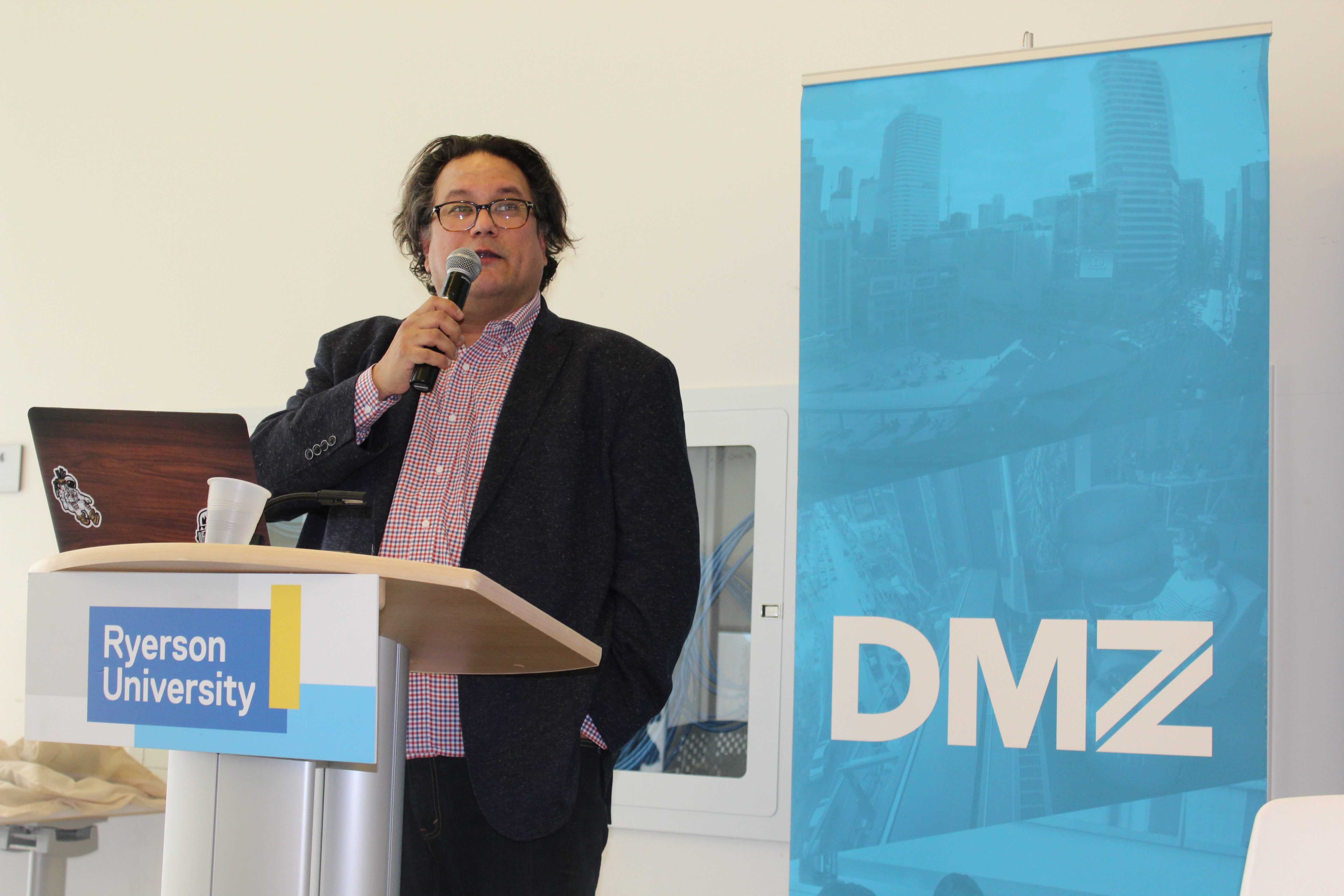 A website to help children understand the news, a mobile platform that provides newsrooms with better access to eyewitness videos, and an online platform for distributing newscasts on voice-activated devices were among the ideas-in-progress at the recent launch of the Digital News Innovation Challenge.
Nearly 100 journalists, aspiring entrepreneurs and students attended the Jan. 25 launch of the Canada-wide incubation program in Ryerson University's DMZ. The event was an opportunity to learn more about how to become one of five journalism startups accepted into the Facebook-sponsored program. The teams selected through the Challenge process will each have access to up to $100,000 in seed capital.
Participants attending Digital News Innovation: Framing the Challenge heard working journalists, scholars, DMZ leaders and officials from Facebook outline the selection procedure as well as specific journalism challenges in need of entrepreneurial solutions.
"These days, the most captivating footage of any event is usually captured by someone on the scene with a smartphone," said Andrei Sabau, the founder of Seen, a platform he says will make it easier for news organizations to discover, verify and license photos and video published online. "While we can be certain that most events are well documented by those in attendance, the inability for news organizations to quickly and securely access that content leads to a slow dissemination of information. Global events take hours to be clearly communicated to the broader population, while many local stories are never covered."
The Challenge, a partnership between the Facebook Journalism Project, the DMZ and the Ryerson School of Journalism, will accept applications now through to March 9. The five applicants admitted to the program will be announced this spring. In addition to access to seed money, participants will each receive a Facebook marketing budget of up to $50,000 to promote their innovations on the social platform.
The startups will spend from April to September in Sandbox, the DMZ's skills development space. In addition to accessing support for entrepreneurial ideas and early-stage startups, participants will gain access to high-profile senior mentors, workshops designed by digital news experts in Canada, workspace in Ryerson's DMZ and the opportunity to work with investors, journalists, experts and researchers.
Richard Lachman, Ryerson's director of zone learning, said that, among other qualities, adjudicators will be looking for applicants who are coachable: "If you are so fixated on your idea that you are sure you have the most brilliant thing in the world, you probably shouldn't apply. We are hoping to help. We have expertise to help you pivot that idea, to alter that idea, to become coached with all the expertise around. We are looking for people who are open to refining their ideas based on the program."
The $100,000 in seed capital will be dispersed in phases beginning with the release of $20,000 to each participant at the start of the Challenge. Each team will receive two more installments of $20,000 upon completion of clearly identified milestones. At the end of September, there will be a final presentation where teams will be eligible for another $40,000.
The launch included a mini symposium that explored journalism-related challenges, including how to attract and retain audiences, the impacts of an advertising-based model on traditional journalism, and the social impacts of obtaining news from platforms that weren't purpose-built for journalism.
Jesse Wente, the event's keynote speaker, identified the disconnect between news organizations and their audiences as a serious problem that needs to be addressed.
"When large institutions fail to be inclusive and at the same time their audiences are rapidly becoming more diverse, you have a recipe for irrelevance," said Wente, an Ojibwe broadcaster and columnist on CBC Radio's Metro Morning. "What happens is you create…enormous gaps where people cannot find themselves in your coverage. They don't see stories that represent them, that speak to the issues that are present in their daily lives."
During a panel on the state of local news media, April Lindgren, an associate professor at the Ryerson School of Journalism, outlined a list of problems besetting local news organizations.
"We need ideas that make it easy for local news organizations to engage with their audiences or build them; ideas that measure the impact of individual local news stories; … ideas that make it easier for citizens to contribute to local coverage; and innovations for older audiences that aren't really digitally savvy," said Lindgren, who leads the Local News Research Project.
She said her research shows that local news is at risk and unevenly available across Canada. The latest data from the Local News Map, which Lindgren created with the University of British Columbia's Jon Corbett, shows that 238 local news outlets have closed since 2008, including 212 newspapers in 173 communities. Most were community newspapers that published fewer than five times per week.
Radha Tailor, a senior correspondent for the Bramptonist, said residents in Brampton are news deprived: "Brampton has a population of around 600,000 people, but we are limited on news accessibility. We don't have our own television channel. There is a huge challenge in that people have not been interested in the news in Brampton for a long time. How do we make them interested?"
The lack of full time staff at the Bramptonist, she said, also means there is no time for innovation: "We have a small team of eight and everyone is freelance or on contract. We don't have anyone there that is full-time."
Laura Ellis, the head of online for English regions at the BBC, said the challenges faced by local journalism in the United Kingdom are similar to what is happening in Canada. The United Kingdom has lost about 200 local newspapers over the last decade, she said, along with about half of the journalists who once worked in local news.
The BBC, Ellis said, is seeking to address this "democratic deficit" by hiring reporters to cover civic institutions, placing them in local newsrooms, and sharing their content far and wide.
"We cannot go to council meetings and people are getting away with stuff," Ellis said. "We now have 150 new journalists who will be covering their institutions, including local councils and health boards. They will be publishing stories everyday online and in the newspapers."
While panelists outlined a long list of journalism challenges in need of solutions, many in the audience already had ideas in the works.
Trebble.fm is an online platform to distribute newscasts on voice-activated devices such as Google Home or Alexa. Armel Beaudry said his media startup makes it easier for audiences to find local content and for journalists to share news coverage. Local journalists, for instance, can share newscasts with their audience using "capsules"– audio messages that journalists can record through the platform to play to listeners.
With the loss of so many local newspapers, Beaudry says, "there is a need to better distribute local journalism. There are a lot of people who want news and content but there is only coverage with a broad appeal and a limited amount of coverage with a local appeal."
Teaching Kids News, co-founded by Joyce Grant, is an online site that publishes stories about the news of the day with extra context and in language children can understand. The team of volunteer journalists working on the site also produces curriculum and grammar questions for every news article that children can understand and that is relevant for teachers and parents who are homeschooling their offspring. Grant said she would use the Challenge funds to pay the volunteers and build her startup.
"We're looking for expertise and information on how to monetize our innovative idea," said Grant. "It is really exciting to think we may be able to get into this program and learn what we need to learn. Everything that they're offering is what we are looking for– a space to work out of, a community to get information from, and contacts and funding. This program can help us to take our idea that is solving a problem and build it."