January 26, 2018
By AMANDA POPE
Staff reporter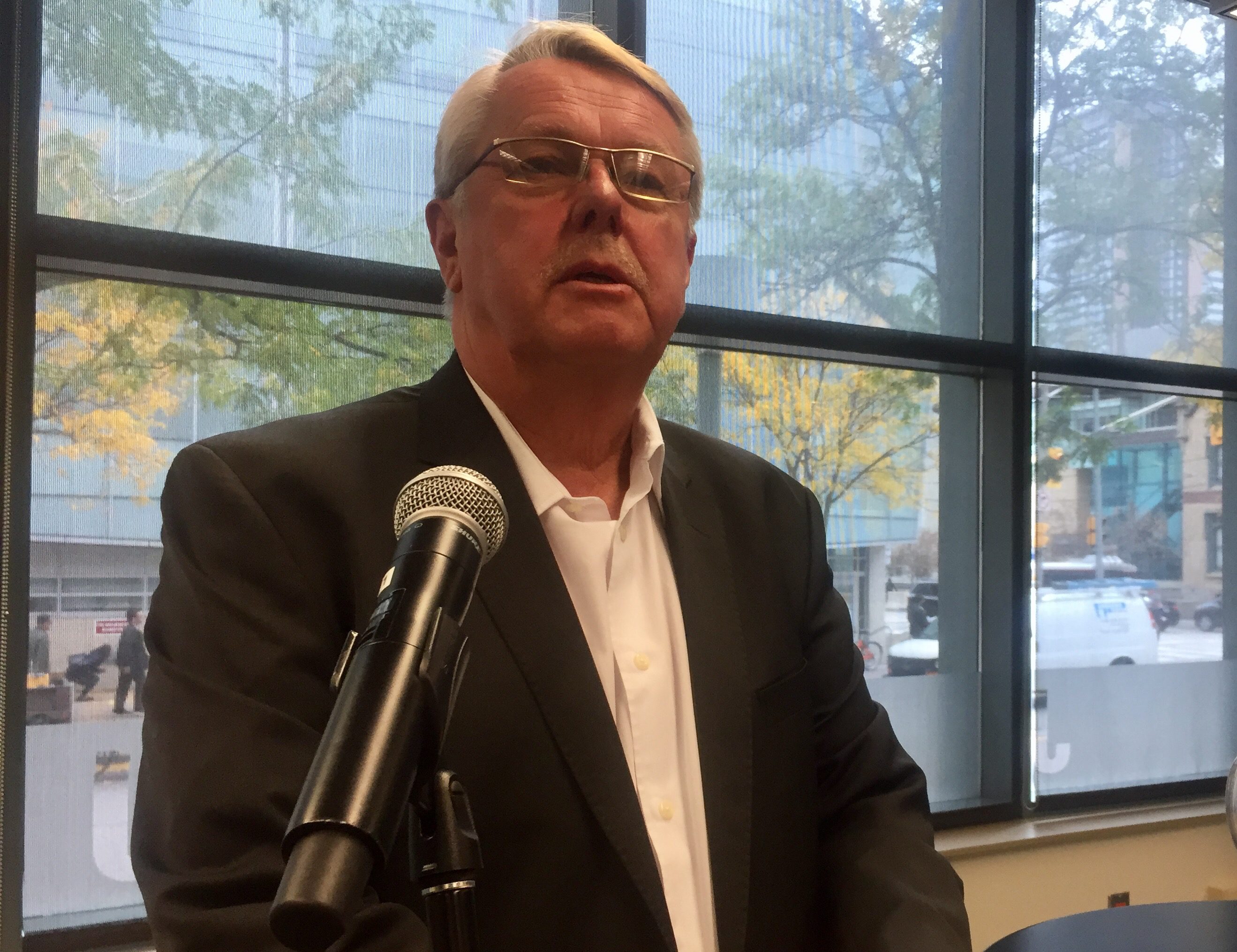 The technology available to journalists is constantly evolving, but the need for strong storytelling remains central to quality journalism, says the executive producer of CTV's flagship investigative show W5.
Anton Koschany, W5's executive producer since 2009, drew on a long career in television journalism in his October 2017 remarks to Ryerson journalism students. With 40 years of experience as an investigative journalist, he has worked in black and white film, edited the morning film reel for the CTV station in Vancouver and worked with colour negative tape when he was a producer for the Fifth Estate on CBC.
"It isn't what you use to shoot," Koschany told students. "Teach yourself the technology because that's our form of communication. You can use the best technology in the world but if you don't have the story to tell … there is nothing you can do to salvage what you're trying to do with your stories. They may look pretty but they may not interest anybody."
During the Ryerson Journalism Research Centre-sponsored session "Tales from the Investigative Trenches," Koschany showed journalism students two separate clips from stories produced five decades apart to illustrate how stories have been told differently over the years.
The one clip documented a reenactment of the University of Texas Tower mass shooting in August 1966 by Charles Whitman. The Sep. 11, 1966 story, the first ever produced by W5, was recorded in Toronto city hall as a way to make it relevant to Canadians.
The second clip was produced by the W5 team following the Oct. 1, 2017 mass shooting in Las Vegas. In that case, the journalists told the story from the perspective of a Las Vegas bartender who comforted a dying Canadian.
While the first clip was recorded with one camera in black and white film and the second clip with multiple HD cameras, Koschany said both approaches told stories in a way that was relevant to their audience.
"You can tell a story in so many different ways," he observed. "In one case, we're proactive, we challenge people, we try and do a test to see what would happen and if this was possible in [Canada]. In the other (second) one, we take you into the emotional heart of the story."
'Don't be afraid to let stories play out'
Koschany said capturing human emotion is important in the production of long-form journalism and documentaries. By way of example, he pointed to a W5 story about the Nova Scotia Home for Colored Children. It documented what happened when a woman revisited the home where she was abused during her youth.
The traditional approach to producing this story would be to record shots of the house and the subjects, conduct an interview and record voiceovers, Koschany said. But it doesn't help the audience to truly see and understand the emotions involved.
Focusing on the reaction of the woman revisiting her past, on the other hand, brought home to the audience the emotional trauma experienced by children at the home: "It's a great device in long-form journalism to take someone back to the scene of the crime," Koschany said. "They confront memories, you take them back and you make it relevant.
"Don't be afraid to let stories play out," he added. "The [subjects] are in their souls at that point and it's visceral and everyone watching that can feel that."
Koschany said that despite its impact and importance, the long-form journalism landscape is daunting.
"It's tough. It's very tough," he said. "It's largely because of the pressures of social media and declining audiences … The entry points to long-form often was through local newsrooms. There are some jobs there but those have been shrinking."
During a question-and-answer session, one first-year journalism student asked for advice on how to succeed in this competitive industry and Koschany returned to his original theme:
"I would suggest to you as you move forward in your careers, it's not the technology, it's the story" that matters, he said.