By JASMINE BALA
Staff reporter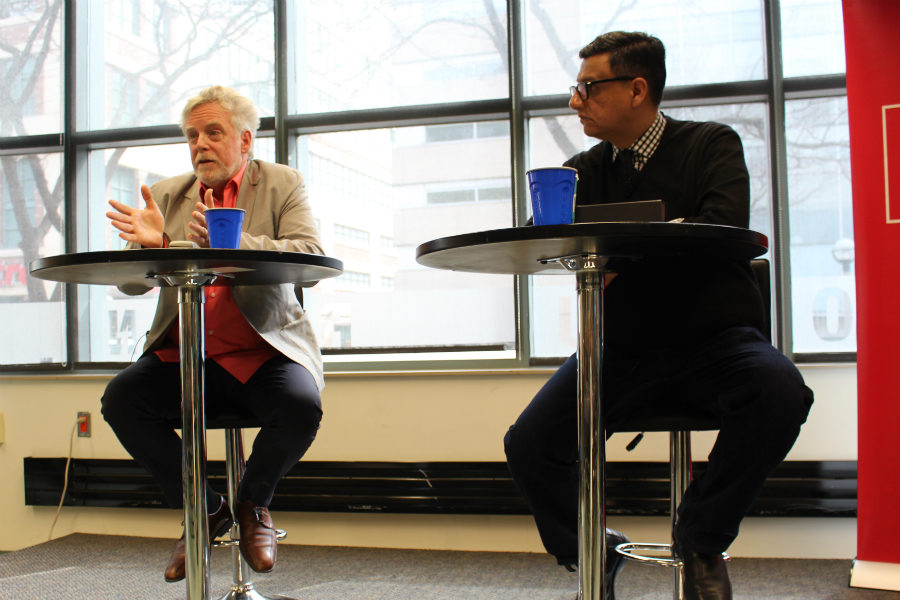 Mexico's drug cartels are making full use of cyberspace to mount a campaign of intimidation targeting the country's journalists and society, says exiled Mexican journalist Luis Horacio Nájera.
Since he fled Mexico in 2008, the drug cartels' presence on social media has expanded and they now broadcast torture, decapitations and killings on blogs like Blog Del Narco, Nájera said during a March 9 presentation at the Ryerson School of Journalism.
Nájera, who is now the PEN Canada George Brown Writer-in-Residence, said reporting on drug cartels and political corruption is now so dangerous for journalists that it is difficult for them to find safe havens inside the country: "Mexico City, before, was considered a safe place or safe city. But now, this is also a place of risk for journalists."
In 2015, news magazine Proceso's photojournalist Rubén Espinosa received threats in Veracruz and fled to Mexico City for safety, where he was subsequently assassinated. His colleague, Proceso crime reporter Regina Martinez Pérez, had been found dead in her Veracruz home in 2012.
No one knows who killed them, said James Cullingham, a documentary filmmaker and journalism professor at Seneca College, who appeared on the panel with Nájera.
"It could have been cartels, it could have been the state government of Veracruz or a police force in Veracruz in collusion with the cartels," said Cullingham, who teaches a course on Mexico's relationship to Canada and the United States. "Most of these deaths are not solved and the investigations are either immediately discredited or are so suspect that nobody in Mexico believes them, and in both [of these cases]…no one knows. They were journalists who were investigators and they were killed."
Former president Felipe Calderón launched Mexico's war on drug cartels in December 2006. Since then, at least 80,000 people have died in organized crime-related incidents according to estimates in a 2015 report released by the Congressional Research Service.
The Inter-American Commission on Human Rights reported last year that 107 journalists were murdered between 2000 and September 2015, making Mexico "one of the most dangerous countries in the world to practice journalism."
Just last week, Armando Arrieta Granados, the editorial director of the Veracruz newspaper La Opinión, was shot and remains in serious condition, according to the Committee to Protect Journalists. A few days earlier on March 23, Miroslava Breach Velducea, a correspondent for the national newspaper La Jornada, was killed as she was leaving her home in Chihuahua.
Nájera said that in his case he was working for Grupo Reforma back in February 2008 when he and a group of journalists wrote a story on a military operation targeting a Juárez Cartel safe house. The day after the story was published, the journalists received a threatening email saying: "You have to stop or we're going to chop your heads, including you and including those police officers and soldiers who participated in this raid against us."
Nájera wrote in a 2010 report released by the Committee to Protect Journalists that a reliable source informed him that his name was on an organized crime hit list because of his reporting on the Juárez drug wars.
"Having seen the pervasive climate of violent crime and impunity," he wrote, "I could not trust the government and I could not simply let myself be killed under some lonely streetlight. In September 2008, I left Mexico with my family and went to Vancouver, Canada."
Cullingham said many major media organizations in Mexico no longer use bylines in efforts to protect their journalists. Other news organizations have stopped covering crime altogether and "are saying 'we've just walked away from the story. We can't have our reporters killed regularly,'" he said.
While the situation in Mexico is dire, Cullingham said, reporters are still committed to documenting what is going on in the country: "It amazes me that [they] continue to produce journalism under these conditions…People are risking their lives to try and tell the story."
The Mexican government, he noted, has taken some steps to protect journalists, including adopting the 2012 Mechanism to Protect Human Rights Defenders and Journalists. It allows the state to offer various forms of protection to journalists at risk, including portable pocket-sized panic buttons, bodyguards and police patrols. A report published by the Washington Office on Latin America and Peace Brigades International, however, found that these measures are "often not adequately implemented."
Journalists and investigators, Nájera said, are no longer the only ones being targeted by the cartels.
"Before they were [threatening] police officers, journalists, people who were working on these things," he said. These were "threats to press freedom, but this is moving towards threats to freedom of expression, which includes civil society and that's the bigger risk for Mexico."
The presentation by Nájera and Cullingham was co-sponsored by Ryerson's Centre for Free Expression and the Ryerson Journalism Research Centre.
Watch the full panel below: