By JASMINE BALA
Staff reporter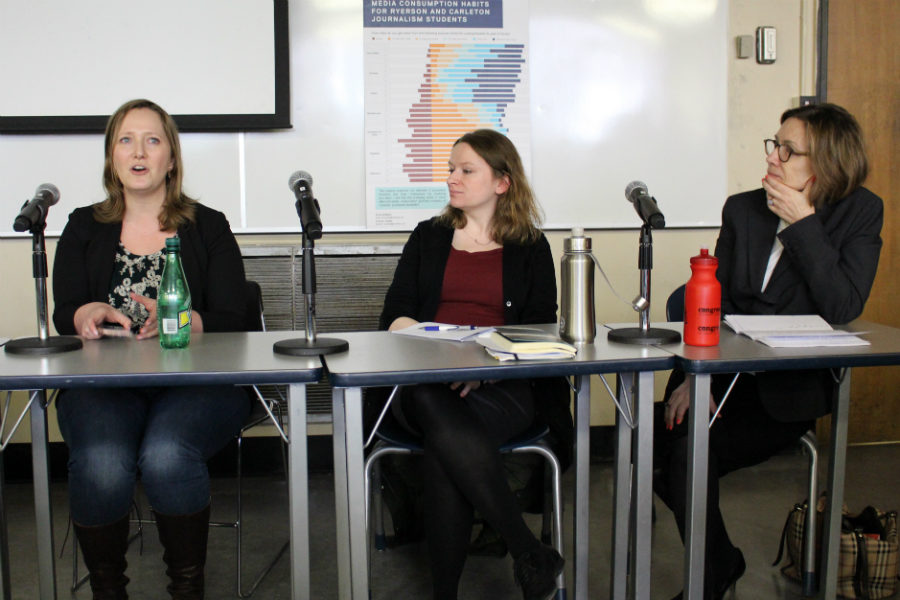 While newsrooms benefit from online analytics that help journalists understand what audiences want and how to package stories, this data can't be the only determinants of the news that gets served up, says the national managing editor for social media at Global News.
Shauna Rempel, who is also an instructor at Ryerson's School of Journalism, said she uses services such as NewsWhip Spike to see which Global News stories are trending on social media and CrowdTangle to determine engagement with these posts across all platforms.
"I'm using half a dozen every day and it's helping determine not just what we're posting, what we're writing, talking about and covering, but also how we're doing it," she told a crowd of mostly Ryerson journalism students attending a panel discussion about what young people want from their news media.
Rempel noted, however, that if her newsroom only focused on stories that resonated on social media "it would be a very lopsided thing."
"We would have a lot of animal videos and things like that, and we need to balance that out with political news and other news that people need to be aware of. But we need to also look at how we're presenting it on social media and elsewhere in a way that will still get to the audience and will connect with the audience."
To do this, Rempel said she takes topics that are complicated and makes them more accessible by adding graphics and animations to help her audience develop a clearer understanding of the story: "It's not dumbed down, but it's cutting through to how it matters to you as the audience member."
While Rempel said her newsroom recognizes the need to include actual news in what it offers its audience, new research conducted by Anne McNeilly, an associate professor at Ryerson, and Aneurin Bosley, assistant professor at Carleton University, suggests many up-and-coming journalists have different priorities. They are interested in reporting on cultural, travel, lifestyle and entertainment stories.
"The sort of pillars of what we think of as news–politics, business, the economy–are way here at the bottom" in terms of what students want to cover, McNeilly said during the panel. "There's not a lot of interest at this stage in reporting on politics and on the economy or business. This really surprises me because politics is an absolutely fascinating area and all you have to do is look at the news and see how Trump has taken over to see…how important an area it is."
McNeilly and Bosley conducted a survey of about 600 journalism students from Carleton University and Ryerson University last year. The responses are part of a bigger international study being conducted by scholars in Chile and Australia that examines the similarities and differences in journalism education around the world. Journalism schools from more than 30 countries are participating in the study including the United States, Brazil, Spain and Indonesia. Comparative data from these other jurisdictions is not yet available.
The journalist's role in deciding which stories are newsworthy and which have more prominence, McNeilly said, has changed with the shift to online journalism.
"As the digital transformation got underway, it changed from the journalist telling people what was news and how important it was to more of what's called a conversation," she said. "So, there is much more participation by readers and audiences. The gatekeeper function that journalists used to have is no longer nearly as dramatic as it used to be. [Now], the audience indicates what they're interested in and what they want" from news outlets.
Readers and viewers, McNeilly added, are also "increasingly fragmented depending on what their interests are" and they read stories from news outlets that pertain to these interests.
Jessica Thom, who teaches in Ryerson's School of Image Arts, found something similar in her research. The young people in her study, she said, largely only felt compelled to read the news if they were interested in the story
"Interest was a couple of different things," Thom said. "Did they find the information interesting? Was it something that was about a hobby or a topic that they were kind of following? Or was this something that they thought was really important or relevant to someone in their life? … They also identified interest in stories that are important to the world in general."
Thom conducted her research as part of her doctoral dissertation investigating how young people choose which news to consume and which news to believe. Her study involved focus groups, interviews and online diary-keeping. Participants were between the ages of 18-29.
Erica Lenti, the editor of This Magazine and a Ryerson graduate, said she has made moving her magazine online a priority in order to reach younger audiences and get feedback on what stories they connect with.
"We have a way bigger audience now because we used to just look at our subscribers and now we have people who aren't subscribers who are engaging with our content. That's been really eye-opening in terms of what they're really enjoying and what they're maybe not enjoying as much."
Her readers, Lenti said in a follow-up email, enjoy analysis-driven narrative journalism in both print and online: "We're moving past the age of the blog, and so we're focusing less on quantity of content going up online and more on quality," she wrote. "So, instead of assigning multiple blog posts, for instance, I'll assign one longer online feature."
This Magazine's readers, she added, also value timely analysis on current events. One of their most successful online stories, for example, was an opinion piece calling on the University of Toronto not to let Jordan Peterson, a professor who refuses to use gender neutral pronouns, participate in a campus debate on legislation surrounding gender identity.