By STEPH WECHSLER
Special to the RJRC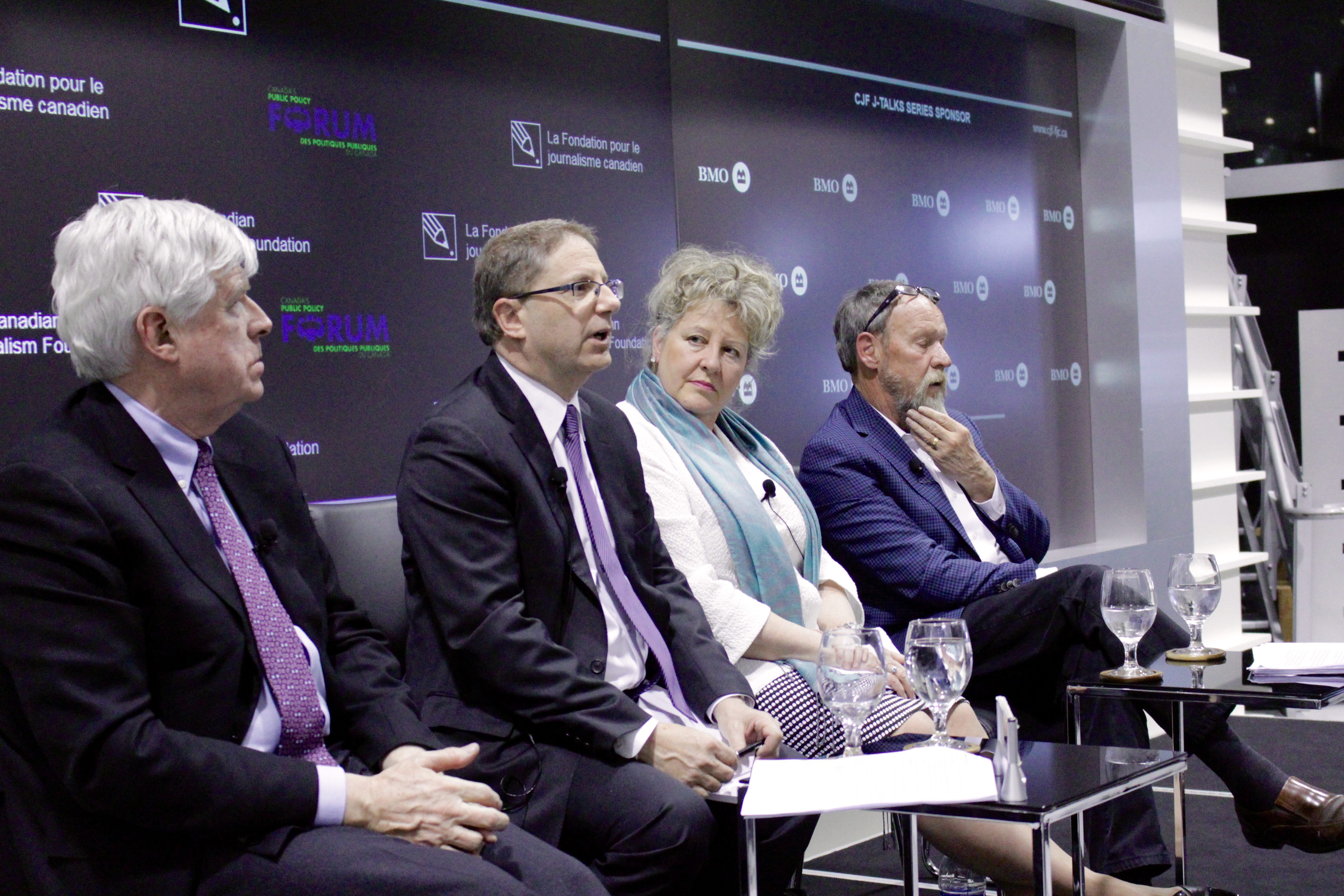 Although Canadians value journalism and believe it is essential to a well-functioning democracy, they don't want to pay for it, concludes a new study that examined the state of Canadian news media.
A survey conducted as part of the Public Policy Forum (PPF) report, "The Shattered Mirror," found that the Canadians surveyed do not make a connection between the news industry's layoffs, closures and other financially-induced problems and what this means for the amount of news available to themselves as readers.
"They assume much like dancers will always dance, painters will always paint, journalists will always cover stories," said Allan Gregg, principal at the Earnscliffe Strategy Group, which conducted the poll.
"They make no linkage whatsoever to the absence of revenue to news gathering organizations with the inability to pay journalists."
A 2016 Reuter's poll cited in the PPF report showed that only nine per cent of those surveyed in Canada pay for online news.
Gregg was joined by April Lindgren, academic director of the Ryerson Journalism Research Centre and Ed Greenspon, president of the Public Policy Forum, at the Canadian Journalism Foundation's Jan. 28 talk: "The Changing Ways Canadians Get Their News." The panel discussion followed the release earlier in the day of the forum's report and its policy recommendations.
The survey of 1,500 Canadians, conducted this past fall between Sept. 22 and Oct. 2,  found that 70 per cent of respondents think that news has a major role to play in democracy and 60 per cent think that journalists play a major role.
When they were asked to assess the consequences of the decline of news organizations, 73 per cent of people surveyed said having less investigative reporting would be a serious problem and 69 per cent said having less coverage of local news would be a serious consequence of news media decline. Having no one around to keep politicians honest or hold powerful interests accountable were considered serious problems by 68 per cent of respondents.
Gregg said the survey results also suggest Canadians hold journalists in high regard –so much so that they balk at the possibility of the government intervening to bail out the news business. Only 25 per cent of those surveyed said they believe government should help struggling news businesses. Respondents said that journalists' ability to act as watchdogs on power would be compromised by government involvement in the news industry.
"It is the very thing they value most about news – its role in democracy, especially holding the powerful to account – that forms the objection to government doing anything to get the industry out of the dilemma it obviously faces," said Gregg.
Forty-four per cent of survey resonsdents said they agreed they would be concerned about journalist's ability to cover governments if said governments financially supported the news business. Another 24 per cent indicated that they strongly agreed.
Although the poll data make it clear that Canadians feel inundated with news, most said they had little to no information about the industry's economic challenges.
"Fewer than half – which is kind of ironic – have heard, read or seen anything about news organizations facing business and financial difficulties," said Gregg. "(It) is not part of the public consciousness."
He pointed to possible explanations for the disconnect between the importance Canadians place on journalism in democracy and their lack of awareness of the news industry's financial woes: "They haven't really come to grips – they haven't started thinking about the demise of newsgathering organizations – what it means to me as an informed citizen," he suggested. "Or they simply reject the premise that declining news gathering organizations would result in the decline of availability of news."
Lindgren, who leads the Local News Research Project, has been investigating what she calls "local news poverty" in Canadian communities. Her research, she says, suggests that local news is available unevenly across the country and is increasingly at risk. Data from The Local News Map, which she created with the University of British Columbia's Jon Corbett, shows 171 local news outlets have closed in 131 communities across the country. The list of closures documented on the crowd-sourced map includes 120 community newspapers.
Another study by the Local News Research Project examined the output of local news outlets in eight Canadian communities and found major differences in how much reporting they did on the local race for MP during the 2015 federal election.
"Where you live is a big factor in the availability of local news," Lindgren said, noting that her research shows digital-first outlets do not seem to be filling the gap left by the loss of more traditional news producers.
Greenspon said the challenge in writing the PPF report was "how do you design something that supports journalism without the government gaining undue leverage?"
Some of the report's 12 recommendations, he said, are "no-brainer(s)," including changes to Canada's charitable status laws. Current rules that limit the resources a charity can devote to advocacy before having its status revoked have historically limited charitable funding of journalism initiatives in Canada.
The report says the "chilling" provisions related to charitable giving reflect "priorities and mores of 19th century England" and removing them could foster the sort of robust not-for-profit, charitable foundation-funded accountability journalism has seen in places like the U.S and Germany.
The "Shattered Mirror" report also recommended the creation of a Future of Democracy and Journalism Fund, to first be financed through an initial investment from the federal government, and then ultimately funded through the taxation of digital advertisers based outside of Canada. The money would be allocated to digital innovation initiatives outlined in the report and the fund would be overseen by an independent board.
The report also recommended:
providing additional funds to CBC online to eliminate ad sales.
supporting Indigenous news organizations and training journalists to increase the amount of reliable Indigenous journalism.
creating an institute for the study of journalism and democracy.
establishing legal advisory services for small, young and university news outlets to pursue accountability journalism "without fear of reprisal."
overhauling the Copyright Act's fair-dealing clauses to enable content creators to retain stronger intellectual property rights to their work.
Audio of the CJF panel is available in full.