By ILINA GHOSH
Staff Reporter
She was excluded from the Globe and Mail's federal leaders' debate this past fall, but Green Party leader Elizabeth May tweeted her way into the discussion, demonstrating how social media provides a platform for voices ignored by traditional news organizations.
Twitter and other social media also give the public a greater role in determining what's news, and generate discussion of news stories over time, giving them a new, virtual life, suggested news and social media experts during a panel at Ryerson University last month.
The discussion, moderated by TVO's Steve Paikin and organized by RTA's Transmedia Zone and the Ryerson Journalism Research Centre, explored how politics and news interact with social media, with a focus on this year's federal election.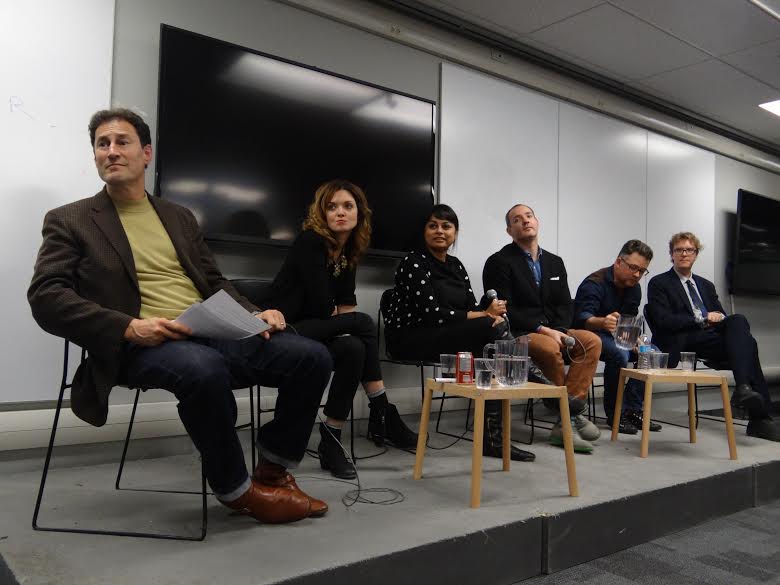 Steve Ladurantaye, Twitter Canada's head of news and government partnerships, said May's ability to insert herself into the leader' debate illustrates how the role of news outlets as gatekeepers of information is shrinking.
"She wasn't invited to the debate by the Globe and Mail, so what did she do? She live-tweeted from Victoria… responding to the questions asked in Calgary. The next day if you opened a newspaper, you wouldn't know Elizabeth May wasn't there because if you're doing good journalism you have to include her. So the role of media as gatekeeper was totally broken down in that instance."
Media personalities, Ladurantaye noted, are also creating digital opportunities for themselves, harnessing social media and new technologies to create platforms outside of traditional media to voice their opinions.
"Right before the election, we lost Sun News… and what happened out of that was the most interesting story in Canadian journalism: the continuing existence of Ezra Levant…He's managed to crowd source himself a television station," Ladurantaye told the a crowd of journalists, journalism and media professors and students.
"This is the first time we've seen that breakthrough of a digital model, of someone with a very unique perspective trying to change into a news channel that caters to a specific group of people. You look at what Jesse Brown is doing with Canadaland, you look at what Ezra Levant is doing. If you find those micro-audiences, you don't need to make that much money, you need to make enough to sustain yourself. I think there's something there, it's a pretty effective way to do journalism."
CBC technology columnist Jesse Hirsh, however, warned that while social media does afford everyone a voice, those voices are often identical to the lineup the public hears from in traditional media.  
"Originally, part of [the social media] myth was democratization, that it would allow for new voices, but I'm not seeing that as much as I could. The people who are really good as pundits and the people who are really good on social media tend to be the same folks, rather than social media diversifying or expanding the voices."
Ladurantaye also views social media as the modern equivalent of the town hall, a tool that can be used by journalists to understand what the public is discussing and interested in.
"I worked in Peterborough and a lot of our stories were generated because the managing editor went to the YMCA every day at noon and at the end of his little work out, he would stand around naked with other old, white guys from the community and they would say 'wow I can't believe that story in the paper this morning, that was really great stuff.' And he would come back and say another story on that because the guys at the Y were talking about it."
Social media is an acceleration of this concept, he says, noting that it becomes immediately evident what people are talking about so journalists don't have to wait until "you're with your old, naked friends in the middle of the day the next day."
Buzzfeed editor Craig Silverman also pointed to virtual discussions on social media as validation or inspiration for news stories. Citing the example of former immigration minister Chris Alexander's interview with CBC's Rosemary Barton, Silverman noted that it was the reaction on social media that led Buzzfeed and others to produce stories on the topic.
"One of our reporters in Ottawa [informed us on a group chat room] that Chris Alexander is getting his ass handed to him on Power and Politics right now. And you could see everyone talking about this on Twitter and I don't know if we or other people would have written about it if everyone on Twitter hadn't been saying 'holy shit, look what's happening.' I think [social media] had a significant influence [on the election] on the hour by hour, minute by minute scale where there was a lot of discussion and instant reaction to things."
This conjunction of traditional media and social media represents today's model of news dissemination, he said.
"You have this combination, where [Alexander] is on a legacy media show, but it's the reaction and the heat that was generated on [social media] that validated [a story on it] for us," Silverman said.  "A lot of the time we look at the discussion around something and then decide is this a story we should go after, is this something people are talking about? For that particular story, that interview probably would have got around otherwise. But if Twitter wasn't around, it wouldn't have been as big of a thing. It was a really big deal [during the election] in that sense."
Ryerson School of Journalism assistant professor Asmaa Malik said that in the new public forum, stories have an extended life:  "The relevance of the nightly newscast is more on Twitter, on social media, rather than people consuming it in the moment, for example."
Similarly, she noted, viewers typically aren't glued to live coverage of events but go to see what happened after the fact often due to social media.
"It's not so much that people are following live coverage as it's happening, but it's the life that it has after that."
Hirsh said that in addition to being a platform for discussion, he and many others obtained their news during the recent federal election from social media. The most popular stories on Twitter and the Facebook newsfeed, he said, were highly effective in identifying issues and what was being talked about.
RTA School of Media assistant professor Ramona Pringle argued that social media and traditional news media should not be at odds, however. As news can be delivered first through social media, she said, traditional print or broadcast media should be taking on a new role as analysts.
"There is an opportunity to take all those various [news stories from the day] and to create a new role for that 6 p.m. news broadcast because they're not going to be there first, but they can take the time and see how the different pieces work," she said, noting that the public forum is enriched by these different contributions.
"That deep analysis is one of the things that I've missed, that synthesis of these little bits that come by all day," she said.  "We frame things as so either or, instead of asking how do we make both the best they can be, knowing the strengths and affordances of each."
View the event here.