By STEPHANIE PHILP
Special to the RJRC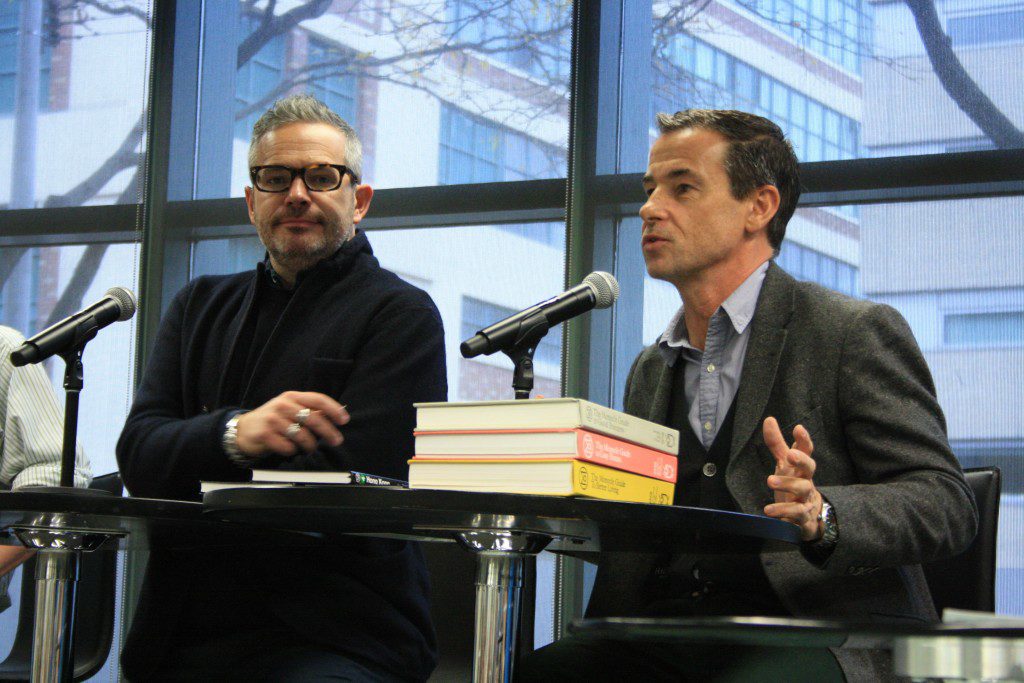 Monocle editors Tyler Brûlé (left) and Andrew Tuck. (Photo by Stephanie Philip)
Monocle magazine editor-in-chief Tyler Brûlé says he is determined to resist the widespread pressures on magazine editors to cut quality and move to a digital- first or digital-only strategy.
Launched in 2007, Monocle was a direct rebuttal to naysayers predicting the death of print. Thicker than a MacBook with pages that feel like a cross between newsprint and binder dividers – familiar but strong – having a copy of Monocle in your hands is a definite statement, and the masthead wants it this way.
"Big media companies are the only ones convinced that they can put something of less value than the year before out and have no one notice," Brûlé told Ryerson students during a recent presentation organized by the Ryerson Journalism Research Centre. The inability to produce better quality magazines every year, he observed, has been detrimental to the business.
"Someone in accounts was saying 'Let's use cheaper paper, let's cut 16 pages from the magazine – no one will notice,'" Brûlé said. But, readers do.
Thus, Monocle was born – a magazine with a commitment to deliver noteworthy reportage and something of obvious value, right down to the quality of paper it is printed on.
"We wanted something fat," said Brûlé, who was no stranger to new business endeavours. After dropping out of Ryerson and moving to the United Kingdom he launched Wallpaper magazine in 1996. After selling the magazine 2002, he spent a lot of time working on Winkreative, a brand and advertising agency he'd started. Four years later, Monocle was in the works.
Brûlé and his team have turned Monocle into a brand that is more than just the printed page. Monocle has a 24-hour radio station and has moved into book publishing with travel guides and titles like The Monocle Guide to Cosy Homes. The person carrying around a copy of the magazine may also be shopping in one of the Monocle retail stores, or sipping tea in one of its cafes, or maybe rolling a Monocle suitcase onto a Porter Airlines flight. They might even be wearing the Monocle fragrance. Fifteen percent of Monocle's revenue comes from e-commerce and storefronts, Brûlé said.
With seven international bureaus from Singapore to Zurich, Monocle as an enterprise is a formidable journalistic force. This month there's a report from Asia about the election in Burma and another about Japan's increased links with Africa. Serious updates are mixed in with lighter stories like the coverage of a Turin clubbing festival.
The magazine is published 10 times a year and offers an array of well-written and deeply researched, occasionally surprising journalism. The most recent issue, for instance, contains a story about the Palestinian fashion scene and a report from the campaign trail in Spain. Twice a year Monocle also publishes special editions of Forecast, about the year ahead in business and politics, and Escapist, about travel.
Brûlé, who in 2001 became the youngest recipient of the British Society of Magazine Editors' Lifetime Achievement Award, insists he isn't relying on cute and fluffy stories to draw readers in: "I think the BBC has an entire cat desk," he joked.
So, who reads Monocle anyway?
Brûlé, says his magazine reaches everyone from architects to highly situated political leaders. Readers also include "a lot of people who ride bikes, " noted Monocle editor Andrew Tuck, who also took part in the discussion.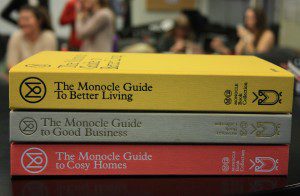 Tuck said Monocle does not have a Twitter, Facebook or Instagram page because "we don't want any artificial interaction" between readers, contributor and the masthead.
"Plus – social media happens on its own," said Tuck, who has been on board with Monocle since its launch. "We don't have to tweet out our own stories, people share them naturally if they're worth sharing.
"You can walk in to a room and five people might be on the same website, but you'd never know," he added. "When you carry around a magazine you're sharing a bit about who you are as a person."
Tuck says the general interest magazine has a circulation of approximately 80,000, including 20,000 subscribers. Monocle, based in London, England, reaches a global audience. Its second biggest market after London is New York while Toronto is fifth largest. And, Tuck chimed, they don't "cheat" on their numbers.
"Every single one of our subscribers pays full price," he said – about $150 Canadian dollars.
Tuck said the masthead editors meet about 5,000 of the magazine's 20,000 subscribers face-to-face in one of the 60 worldwide events Monocle hosts each year. At the first ever Quality of Life conference held in Lisbon, Portugal in April, for instance, presentations on how to build a perfect house and how to reinvent the high street, were punctuated by shorter talks like the "Twenty things we like" slideshow that displayed the urban elements Monocle believes should be replicated world wide. It's this in person, genuine relationship with readers that helps sustain the Monocle brand, he said.