By JACKIE HONG
STAFF REPORTER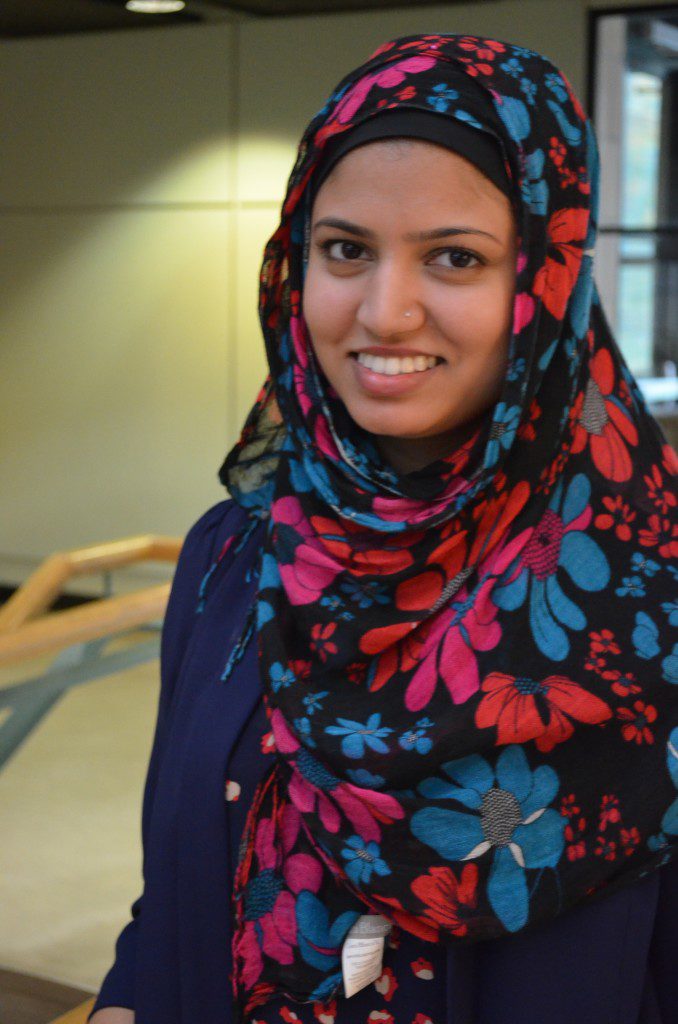 Making the results of research by university professors readily available to other scholars, the public and students is an ongoing challenge, but a Ryerson University journalism student set out to change that by applying her storytelling skills to a website devoted to the study of local news.
Sahar Fatima was awarded a 2012 Undergraduate Research Opportunity scholarship for a proposal to work on the Local News Research Project site, which focuses on research by Ryerson journalism professor April Lindgren. Since 2008, Lindgren has looked at a variety of media outlets in the Greater Toronto Area, exploring factors that influence their local news coverage. Fatima incorporated text, photography, charts, videos and audio to break down Lindgren's findings into easily understand and accessible sections that have been published on the website.
"What we wanted to do was use journalism techniques to tell research stories. We wanted to…get research across to people in a way they could understand," Fatima said of the project.
In addition to publishing the original research studies, the website includes news stories about the research, sound slides and audio clips. "If you're not…willing to read through the whole thing," Fatima said, "you can still get a good sense of what the story is by just listening to things."
Fatima, who had previously worked for Lindgren as a reporter for the Ryerson Journalism Research Centre website, discussed the idea of experimenting with journalism storytelling techniques for research dissemination with Lindgren prior to applying for the URO scholarship. The award, granted to students who propose viable research ideas, pays successful candidates' salaries for three months. Fatima spent last summer working on the website content.
Lindgren outlined some of her research findings and highlighted how the results were presented on the website during an Oct. 31 presentation organized by the Ryerson Faculty of Communication and Design.
During the presentation, Lindgren explained that local news has the potential to shape public perception of neighbourhoods and cited the stigmatization of Toronto's Jane and Finch area as an example. Drawing on the Local News Research Project's unique news mapping tool, she also illustrated how different news organizations tend to concentrate coverage on certain parts of the GTA. Maps she presented highlighted the Toronto Star's focus on the city's downtown core and the Canadian Punjabi Post's emphasis on news and events in the Brampton area. Lindgren also outlined her concerns about the underreporting of local news in many GTA-area ethnic newspapers.
Charles Davis, the associate dean of the Faculty of Communcation and Design, attended the presentation and applauded Lindgren's efforts.
"There's a need to…communicate scholarly research to people who are not scholarly researchers, to regular people, and that's what April has done," he said. By creating a website highlighting current news issues, he said, Lindgren and Fatima were "playing to [the faculty's] strengths."
Fatima, who wrote a paper outlining how journalism storytelling lends itself to the dissemination of research results, said she is now working on a story about new research by Lindgren on how ethnic newspapers cover other racial and ethnocultural groups.
Efforts to publicize the website through social media will also be stepped up in the coming months.
"It doesn't have to be just journalism students," Fatima said. "We want as many [people] as we can get to look at this website, and, you know, hopefully learn something they wouldn't have learned otherwise."