By Benjamin Cohen
Imagine the smell of barbeque filling a theatre as you listen to descriptions of the South Korean dog meat industry. Dogs rescued from slaughterhouses are onstage while a video interview with the activist who saved them plays on a screen overhead. A journalist onstage reads their original reporting on the industry — it's an engaging spoken piece, but maintains journalistic integrity and factuality. Meanwhile, graphs, sound bites and on-location footage accompany the story in real-time.
These are some of the ideas floated at a focus group for a live journalism concept, co-hosted by the Ryerson Journalism Research Centre, in December.
This March, a team of students from both Ryerson and London South Bank University will be producing a work of journalism live on stage, exploring perceptions of the South Korean dog meat industry.
The project is part of stitched!, a concept created by Sonya Fatah, assistant professor of journalism at Ryerson University.
Fatah has been working on stitched! for two years now. She says she started the project to explore new directions in media and new ways to do journalism.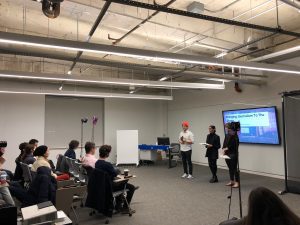 "I wanted to try to connect with audiences and engage with communities with live journalism in a similar way to what's already been done in the U.K., the U.S. and in parts of Europe," Fatah said.  
Members of the student team include Ryerson undergrads Qudisya Jabeen in RTA media production and Elizabeth Colleran from the School of Performance, as well as Master of Journalism student Adam Chen. They hosted the focus group at Ryerson University in Toronto, while their London counterparts, Claudia Van-Nimwegen and Arthur Skinner (both majoring in theatre technologies) appeared via video.
Project needed a journalist
This is the second team to have helmed stitched!, the first having been approached by Fatah in spring 2018.
"It was challenging with the first group," she said. "There was no journalism student attached to the project. The work was interesting but it lacked what it needed at its core — a journalist."
Live journalism can look a bit like a deconstructed documentary in practice, in which a journalist "performs" his or her own magazine-style feature in front of an audience. The presentation is supplemented by audio, visual and even olfactory aids to create a unique, immersive experience.
At last month's focus group, the team presented a snippet of their upcoming performance, scheduled for late March. Chen read aloud from a feature he is working on, accompanied by visuals projected on a screen cloth panel.
In the final version, Chen will perform from within a cube made from transparent screen cloth, allowing data and other visual cues to appear alongside him. Meanwhile, a PA system will disperse auditory effects around the room.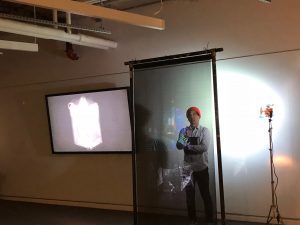 Following the presentation, Chen, Jabeen and Colleran opened the floor to questions, consulting with those in attendance.
For over an hour, the group discussed defining the line between creative expression and fact-based journalistic content, as well as how journalists can improve audience immersion and create more fulfilling multimedia experiences.
Phones off and no social media
Chen cited the work of other projects pioneering live journalism that inspired stitched!, like Pop-Up, This American Life and Live Magazine, saying their performances engage audiences in ways digital journalism can't.   
"What live magazine pop-ups do is that they make sure that your phones are off and there's no social media," said Chen.
"That connects you to the moment, which you're missing a lot now with the news you read. It's always in the background, you have like 100 tabs open, it's hard to get immersed in the content."  
One benefit of live journalism, Chen said, is that it attracts people that traditional features cannot.
"Because people like live performances, they'll come out and pay a substantial amount for tickets, whereas they wouldn't really pay for magazines," he said.
A second focus group was held in London South Bank University Jan. 17 to further discuss the project. Now, the team will be firing on all cylinders conducting interviews, creating graphics and recording audio until the stitched! spring debut.