Dozens of students, professors and professionals packed a new research hub at Ryerson last month for "Rubix," the Faculty of Communication and Design's annual expo. Part science fair, fashion show and art exhibit, the event showcased FCAD's scholarly and creative work and paired it with free wine and charcuterie.
This year's event was also the launch of The Catalyst, a new, 5,000 square foot space in the Rogers Communications Centre that's been in development since fall 2016.  The Catalyst is now home to more than 20 FCAD labs and centres, including the Ryerson Journalism Research Centre.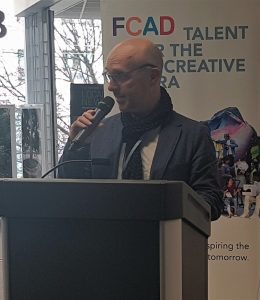 "A lot of people have been asking about this space," said Catalyst director, Greg Elmer, addressing the Rubix crowd.
"It's a tremendous opportunity for us to advance our scholarly, research and creative projects, agendas and collaborations, and work with our students … It's to encourage collaboration and interdisciplinary projects."
In an interview, Elmer said many FCAD researchers have been spread across campus and isolated from each other.
"I think what you're seeing today is really a homecoming of sorts and a tremendous opportunity for us to collaborate," he said.
"You have all these natural collaborations and topics forming and that leads to serendipitous moments."
Building the Catalyst cost about $1 million, funded by the federal government's Post-Secondary Institutions Strategic Investment Fund (SIF), said Lauren Clegg, Ryerson media relations officer.
Rubix was the 22nd event at the Catalyst, during its first five weeks in operation. The space has also been host to panel discussions, lunch and learns and workshops.
Several projects were on display at Rubix, from a wide range of disciplines.
Local news an 'urgent' issue
Asmaa Malik, journalism assistant professor and director of the graduate program, was at Rubix to display "The Future of Local News: Research and Reflections," a multimedia publication which chronicles the "struggles and successes," of local news around the world, according to its website.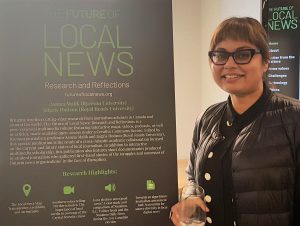 "The issue of local news is very urgent," said Malik.
"The situation is pretty rough, in terms of news outlets closing, people having less access to information and the effect this has on democracy and civic participation," she added.
Malik said the project was spurred by the 2017 conference, "Is no local news bad news? Local journalism and its future," organized by the Ryerson Journalism Research Centre.
April Lindgren, Ryerson journalism professor and research chair, presented the Local News Map. The crowdsourced digital map tracks the openings and closures of local news outlets across the country, and is updated every two months.
Lindgren says the map "addresses a significant gap in data," which exists as a result of Canada's lack of central tracking for local news.    
Rethinking police uniforms
Sandra Tullio-Pow, associate professor and program director at the Ryerson School of Fashion, debuted a series of fully formed police uniform prototypes.
She created the project, "Neighbourhood Policing: Designing Uniforms That Work," in collaboration with fellow School of Fashion members Kristen Schaefer, Lucia Dell'Agnese, Pui Yee Chau, Tanya White, Jennifer Dares, Diana Lee and NaHee Kim.
The Toronto Police are looking to improve attire for officers in the new neighbourhood police program, Tullio-Pow said, and after bidding on a request for proposals, her team noticed a glaring issue.
"These officers (in the program) are either on foot or on bicycle, but they're still in their standard uniforms," she said.
"You can imagine, when you go to the gym you don't wear your dress shirt and you don't wear dress pants, and yet, those are the kind of shirt and pants they're riding their bikes in."
Her group then held targeted focus groups with police in order to better understand what they needed.
They then developed four lightweight, breathable uniforms featuring mesh ventilation and reflective material, which Tullio-Pow said are completely absent from what bike cops are wearing now.    
Making academia understandable with artificial intelligence
In another part of the Catalyst, Robert Clapperton, assistant professor at Ryerson's School of Professional Communications, displayed his artificial intelligence project,"The Present Absent Author."
"We're building a natural understanding platform," said Clapperton."Basically, what you'd think of as a bot, but a little bit more complex of a bot,"
The platform will be able to read and peer-review academic papers and then be able conversationally answer questions about them.       
He added that the goal of the project is to eventually be able to enter even the most arcane scientific articles into the system, which would be able to make them understandable to a layperson through question and answer.  
Clapperton said the program is about 20 per cent complete, and is currently training and learning.
Building the Catalyst 'from scratch'    
As far as setting up both Catalyst and the Rubix event, Elmer said there were "challenges every day," likening it to moving into a new condo.
"Whenever you build something from scratch, you're starting anew, you're hiring new staff, you're making sure that it's a safe environment, you're doing your best to welcome in as many people as possible from across campus," he said.
"(The Catalyst) is a large space, we want it to be used, we want it to be welcoming, from undergraduates doing research straight up to the most senior research chairs. I think, really, the biggest challenge is to live up to the opportunity that we have here."