Nicole Brumley
Special to the RJRC
May 1, 2018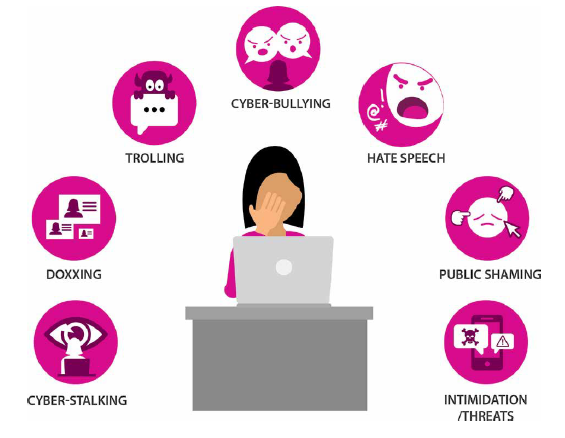 As a student journalist, I've been afforded the protection of speaking to a mostly liberal audience through campus newspapers. But, as a black female journalist, I know this protection will crumble when my work is showcased in larger publications. Having an opinion on social media while being visibly racialized opens the floodgates for abusive trolls. I know deep in my bones, however, that using my voice as a young black woman to talk about difficult issues and tell difficult stories is important.
A 2018 report by Amnesty International referred to Twitter as a "toxic" place for women. The study found that Twitter inadequately enforces policies when women report violence and abuse on their platform. Various journalists and writers reported receiving threats and targeted racism.
According to Amnesty International's online poll, of the respondents who experienced abuse or harassment on social media, 29 per cent in the United States said they experienced threats of physical or sexual violence. Around half of the women who responded, 53 per cent in the U.S. and 47 per cent in the United Kingdom, said the abuse included sexist and misogynistic comments.
While the reality of online hate is a nagging concern, my commitment to highlighting controversial issues about race, culture and religion is unwavering. I have written about my own experiences with racism, black Somali women taking a stand again negative media representation, and Muslim women tackling social justice issues. I understand why racialized female journalists sometimes need to take a step back from social media when their personal safety and well-being is under attack online. But when it's my turn – and I have every reason to think my turn will come – I hope I will be resilient in the face of pressure intended to silence my voice. A recent workshop organized by the Ryerson Journalism Research Centre gave me some tools for doing this.
The April 3rd workshop, which organizers called "Entitled to Your Opinion, " included a discussion of the effects of online abuse and a session that focused on ways to maintain your well-being when dealing with hate. Dr. Diana Brecher, a Ryerson adjunct faculty member and positive psychology expert, explained that coping training does not involve accepting harassment or giving up the fight to counter it. What it does offer is instruction on how to practice meditation and conscious positive thinking so that you can remain grounded and thrive, even when dealing with online hate.
Noor Javed, a Toronto Star reporter, talked about the backlash she experienced as a result of a story she wrote 10 years ago about polygamy in Toronto's Muslim community. She reported about imams who officiated the marriages and also practiced polygamy, and the impact it had on women who were first and second wives.
Social media platforms weren't as active at the time, Javed said, but there was considerable backlash from members of the Muslim community who criticized her on blogs and online forums, and even launched an email campaign against her. The story resurfaced recently, she said, because it is being shared online by right-wing Muslim groups.
And once again she is being "hated" because of it, only this time it's on Facebook and Twitter where the story has been shared.
"It made me think 'would I have written that story today?'" said Javed. "In today's anti-Muslim political climate, I probably wouldn't have."
It was disheartening to hear first-hand how online hate and racism can influence the kinds of stories journalists report on. I realized how the intensity of online hate differs for various racialized women: Javed's experience with online hate as a Muslim woman who wears a hijab, will undoubtedly differ from mine as black woman. But it's also important to remember who benefits when these stories are told. Javed's experience was case in point: She said that when her story first appeared, it started a much needed conversation about polygamy in the Muslim community and many Muslim women were happy to have a place to discuss their views on the matter.
Javed told workshop participants she has dealt with hate by occasionally taking some time offline. She also finds solace in the support she receives from her colleagues who understand the toll that comes with being publicly hated, threatened and verbally abused.
We also see publications like the Toronto Star taking action by disabling its comment section online – a move some argued posed a limit to reader engagement. I think the Star did the right thing: newsrooms cannot stand idly by while their journalists face a barrage of online abuse. Space for informed public debate is diminished when ignorance and hate prevails. Javed said the paper has also been understanding about giving reporters time off when they are feeling overwhelmed by online hate and harassment.
During her presentation to the 25 or so students attending the workshop Javed recalled being told by another journalist that "if you want to stay in journalism as a brown Muslim woman who wears a hijab, you will need to have thick skin." As a black, female journalist, I hope that I will not only develop a thick skin, but have the necessary support and personal resiliency to tell difficult stories, and voice opinions some people just don't want to hear.
Nicole Brumley is in her final year of studies at Ryerson's School of Journalism. She has worked as the Communities Editor at the Eyeopener Newspaper. Nicole is also a reporter for RUtv News and a photographer.