January 30, 2018
By RHIANNA JACKSON-KELSO
Staff reporter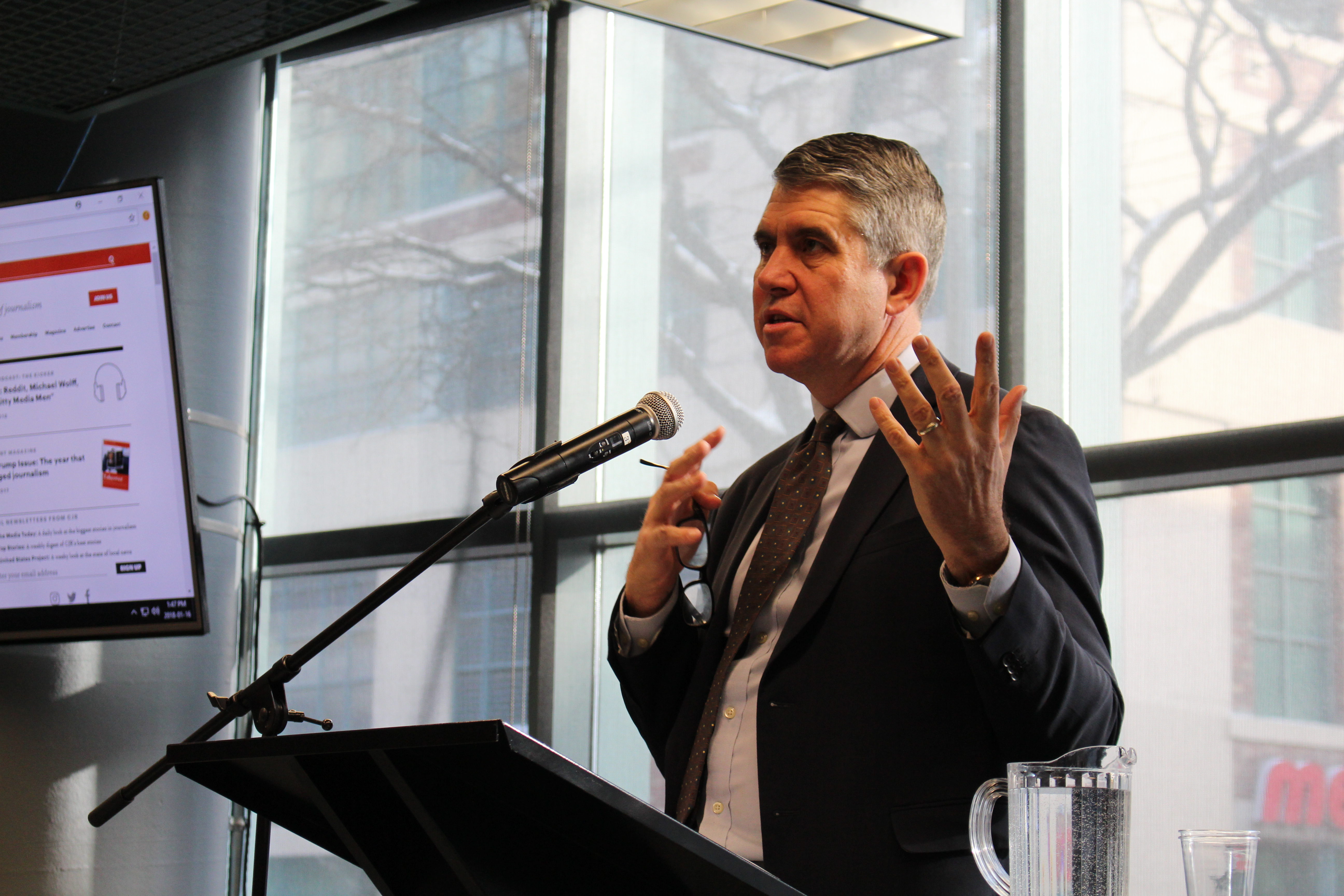 The breakdown of trust between journalists and the public is due in large part to the decimation of local news, says Kyle Pope, editor and publisher of the Columbia Journalism Review.
Though subscription levels to the New York Times and Washington Post have spiked in the last 12 months, and the Columbia Journalism Review's own audience is also roughly 50 per cent higher, smaller publications have not benefitted from the "Trump bump" and are still struggling, Pope said during a recent presentation at the Ryerson School of Journalism.
"If you're a newspaper writing about what time the library closes or […] what the sale is at the local store, that is a pretty intimate and, frankly, sort of unimpeachable relationship between the [news media] and its audience," Pope said during his Jan. 16 talk titled "Watching the Watchdogs in 2018: Why media criticism matters now more than ever."
With local news outlets struggling or shutting down, however, Pope says these intimate relationships have begun to dissolve.
"What's happened is that a lot of that landscape has been taken away [due to] failed business models and a lack of any kind of digital strategy," said Pope. "A lot of communities [are left with] no local newspaper and the national talking head[s] or national press that doesn't really pay attention to what they're doing." In the absence of local journalism that reflects their concerns and communities, Pope said, citizens are left with the sense that news organizations aren't interested in the issues that matter to them.
"The local level is where this [breakdown of trust] is going to be most effectively fixed, as opposed to trying to start at the national level and work our way down," said Pope, who joined the Columbia Journalism Review as editor in September 2016 after jobs at The Wall Street Journal, The New York Observer, and Straus News.
To rebuild trust between journalists and the public, Pope said, journalists must work harder than ever to be accurate in their reporting because "the margin for error is incredibly tiny."
"We have to be so incredibly careful right now. […] Every mistake is amplified, every correction becomes a sort of meme," said Pope. "Unfortunately, that is coming at a time when the resources, the editing ranks of a lot of news organizations, are cut to the bone."
Journalists also need to go out and re-establish connections with their readers, said Pope, who pointed to a variety of trust-building experiments underway in the United States.
One such initiative is the Columbia Journalism Review's upcoming "Trust Tour." The tour will target "news deserts"—areas that are no longer covered by local news outlets, or where news coverage has shrunk dramatically. Face-to-face conversations between local editors and their readers will be facilitated by the Review in a bid to educate readers about how the news is curated, improve their understanding of what an editor's job entails, and to help them put faces to bylines.
In keeping with its trust-building efforts, Pope said the Review is also in the process of redefining what kind of stories it wants to publish and in particular how it can make the journalistic process more transparent for readers.
"Our mandate is just much bigger [now]," says Pope. "When we think of 'what is a CJR story?' now, we think of [people in the newsroom], but we also think much more broadly" about how to include laypeople who are interested in learning about how journalists gather information and decide which stories to publish.
Local newsrooms in the United States, he added, are exploring a variety of other approaches to building audience trust. A recent Columbia Journalism Review article recounts efforts by the editor of a local newspaper, the Union-Bulletin of Walla Walla in Washington State, to address reader complaints that it was publishing "fake news." The strategy focuses on open discussion and direct responses to every complaint.
In another example, Pope cited the efforts of a small Pennsylvania newspaper—one that is embedded deep within "Trump country"—to connect with readers who were voicing criticism on Facebook about the paper's news coverage. The editors initially invited these readers to visit the newsroom to see firsthand how the editorial staff made decisions and produced stories. The detractors failed to show up for the tour. They were, however, eventually persuaded to sit down with the editors for lunch and a discussion about the journalistic process—an initiative that led some readers to rethink their negative feelings about the paper's coverage.
This combination of communication and education, Pope said, is crucial to re-establishing trust between the public and the press, and to rebuilding a healthy network of smaller, local news outlets. It will also be central to forging a culture of subscription-based news media, which he predicted is the way of the future for the industry.
"The dependence on subscriptions does change the nature of these news organizations," Pope said. The attendant risk, he added, is that editors will feel obligated to cater to their paying subscribers and media partisanship will increase.
Pope downplayed the possibility that subscription-based news media might also be a problem for people who can't afford subscription costs: "I don't have a lot of patience for that," he said, pointing out that many people are happy to pay for subscriptions to services like Netflix and Spotify. "There is a willingness to pay for [these things]. We just have to make news one of them."
In addition to rebuilding trust between journalists and the public, Pope said navigating these new funding models for smaller news organizations will also be critical.
"You have a role to play in all this," Pope told the audience made up mostly of journalism students. "You need to get out of your bubble and go out and do your reporting, [meet] new people, spend some time on their territory. There's too much reporting, I think, that still goes on online, and I think there's a lot more you can go out and do in person."