Dec. 5, 2017
By AMANDA POPE
Staff reporter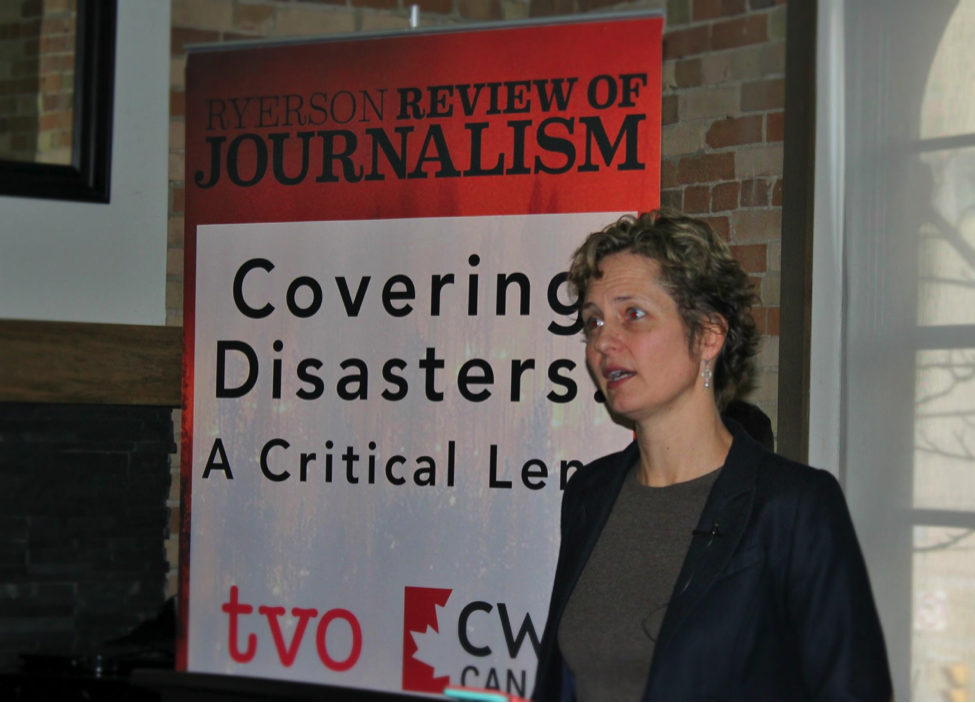 Reporters who fly in to cover natural disasters must report on people suffering the consequences with respect and compassion, says journalist Catherine Porter, who arrived in Haiti soon after the 2010 earthquake to cover the story for the Toronto Star.
Porter was one of several speakers at a recent Ryerson Review of Journalism conference to emphasize that journalists must retain their sense of humanity toward victims of devastating wildfires, earthquakes, hurricanes, mudslides and other disasters. Covering Disasters: A Critical Lens, a day-long event held at Ryerson University's School of Journalism, explored how journalists can prepare to cover disasters and where they are missing the mark.
"We have to be respectful, we have to be decent," said Porter, who is now the Toronto-based Canada bureau chief for the New York Times. "The mantra I repeat to myself often all the time in this job–whether it's a natural disaster overseas or not–is, 'This is just my job for today and this is this person's life.'"
Porter, the keynote speaker at the Nov. 21 conference, recalled the experience of touring a public hospital in Haiti to illustrate how vulnerable people can be treated without dignity. The Spanish doctor who took her on the tour "walked me into a room where I found a completely naked woman on a bare metal table giving birth and she was crowning," Porter said. "As someone who has given birth twice naturally and has been in that position of complete vulnerability, I was shocked.
"I looked back on that and thought … 'Why did that Spanish doctor think it was okay to bring me into that room so casually when I was not writing about women giving birth there?' That would never ever happen in Canada," she said.
Porter said she left the room because her job as reporter involves treating vulnerable people with respect. Covering disasters, she noted, is hard on the human spirit: "I was haunted when I returned from Haiti."
Ed Ou, a visual journalist with NBC News based in New York, also discussed the need to focus on the person beyond the tragedy.
"No matter what happens in any situation, whether it's a conflict or a disaster, life does go on," said Ou, who was part of a panel about photographing disasters. "One thing that has really struck me is how resilient the human spirit is. We oftentimes as journalists have a tendency to go in and we see people and we're trying to extract a tragedy but really what you [need] to see is hope."
Ou travelled to Kazakhstan in 2008 to photograph the lasting effects of radiation on the two million civilians who were exposed when the Soviet government test fired more than 400 nuclear weapons during the Cold War. He said he spent as much time as he could with survivors to get a sense of who they are as people.
Ou shared the story of Berik Syzdykov, who was born deformed and without eyes due to radiation exposure. He said he worked to see beyond Syzdykov's disfigurement– to find out who he was as a person and what made him happy. Syzdykov, he discovered, learned to play piano and fell in love with opera when he travelled to Italy for an operation on his face.
---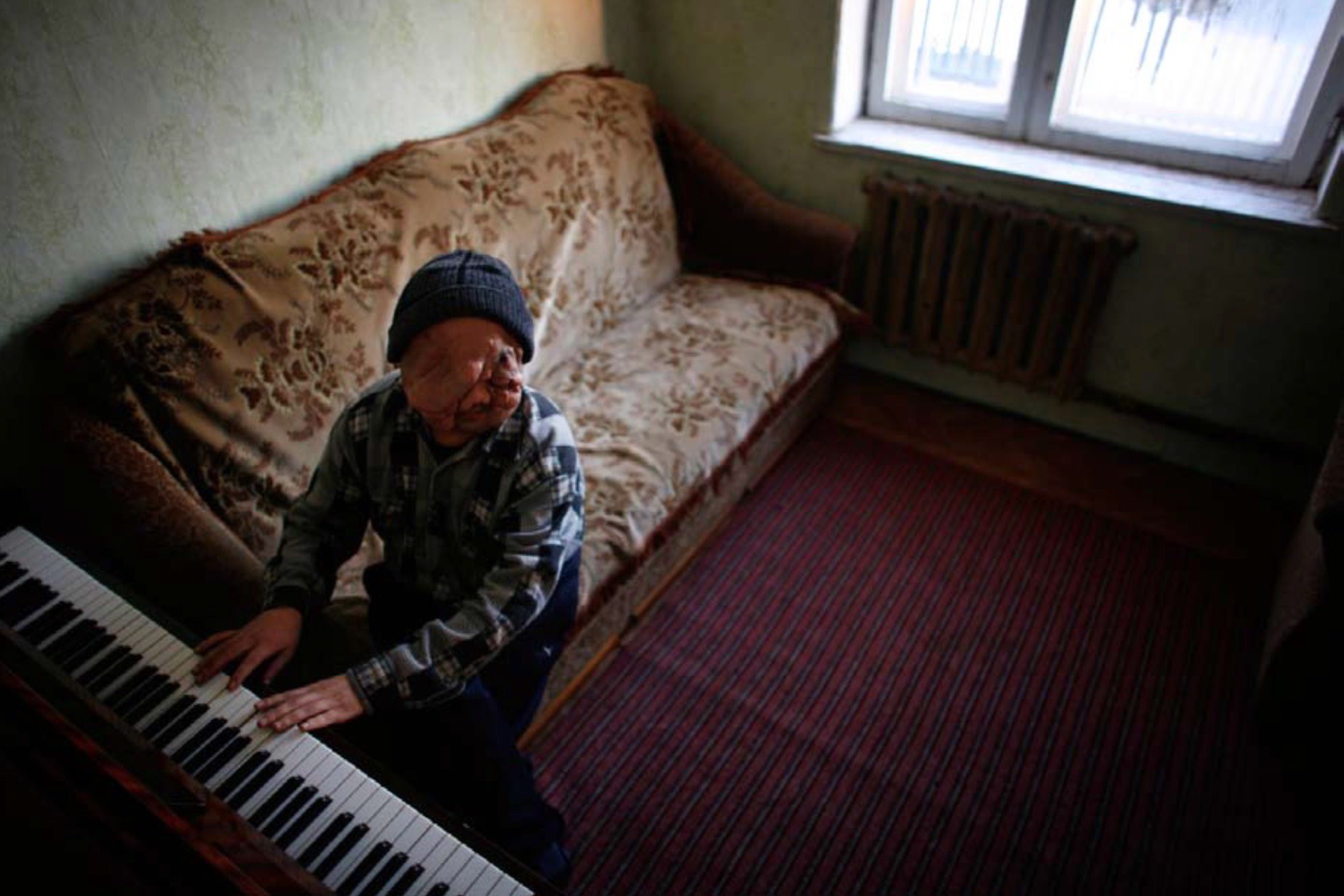 ---
"I try as much as I can to empower people so they aren't seen as victims but as people with their own agency," Ou said. "You are spending time with people to paint a portrait of what life looks like and to humanize people and their daily lives, but also to give a sense of what's at stake."
The nearly 100 conference attendees heard later in the day from journalists who emphasized the need to report on the aftermath of tragedy. David Thurton, a mobile journalist in Fort McMurray for CBC News, said stories continue to unfold after the immediate crisis is over.
"When it comes to the Fort McMurray wildfires, that's when the people were the most vulnerable," Thurton said. "Yes there is a complete disaster, there is an evacuation, they're fighting for their lives. But then you have the aftermath where people are losing their homes [and] the government is not providing services."
Government officials and authorities promise to take action to assist victims during tragedies, he noted, so it is crucial for journalists to hold them accountable once the disaster is past.
'Be prepared to be uncomfortable'
The conference, organized by a team of students working for the Ryerson Review of Journalism, also included a panel discussion about the physical and mental toll covering disasters can take on reporters.
Angela Mullins, a managing editor for Metro News, was part of the news team covering the 2016 Fort McMurray wildfires. She warned the reporters to beware of the physical discomfort they would experience from the smoke: "Be prepared to be uncomfortable. It is going to be a very uncomfortable experience while you're there."
CBC journalist Marion Warnica, who reported the stories of civilians affected by the Fort McMurray wildfires, said covering the disaster was stressful. But she said the best thing journalists can do is give themselves permission to stay safe and be human while doing the job.
"Be mindful. When you start your career, set up a regular mental health practice," Warnica said. "What is it that you personally need to do to keep yourself happy and stress free? How do you release that stress? I honestly think that is what helped me."
In the coming weeks, the RRJ plans to publish a multimedia package and online resources for journalists seeking expert advice and best practices for covering a disaster.