This is one of a series of features, news articles and videos on the June 2017 conference "Is no local news bad news? Local journalism and its future" hosted by the Ryerson Journalism Research Centre. To read more about the conference and local news, visit:  localnews.journalism.ryerson.ca.
By SIERRA BEIN
Staff reporter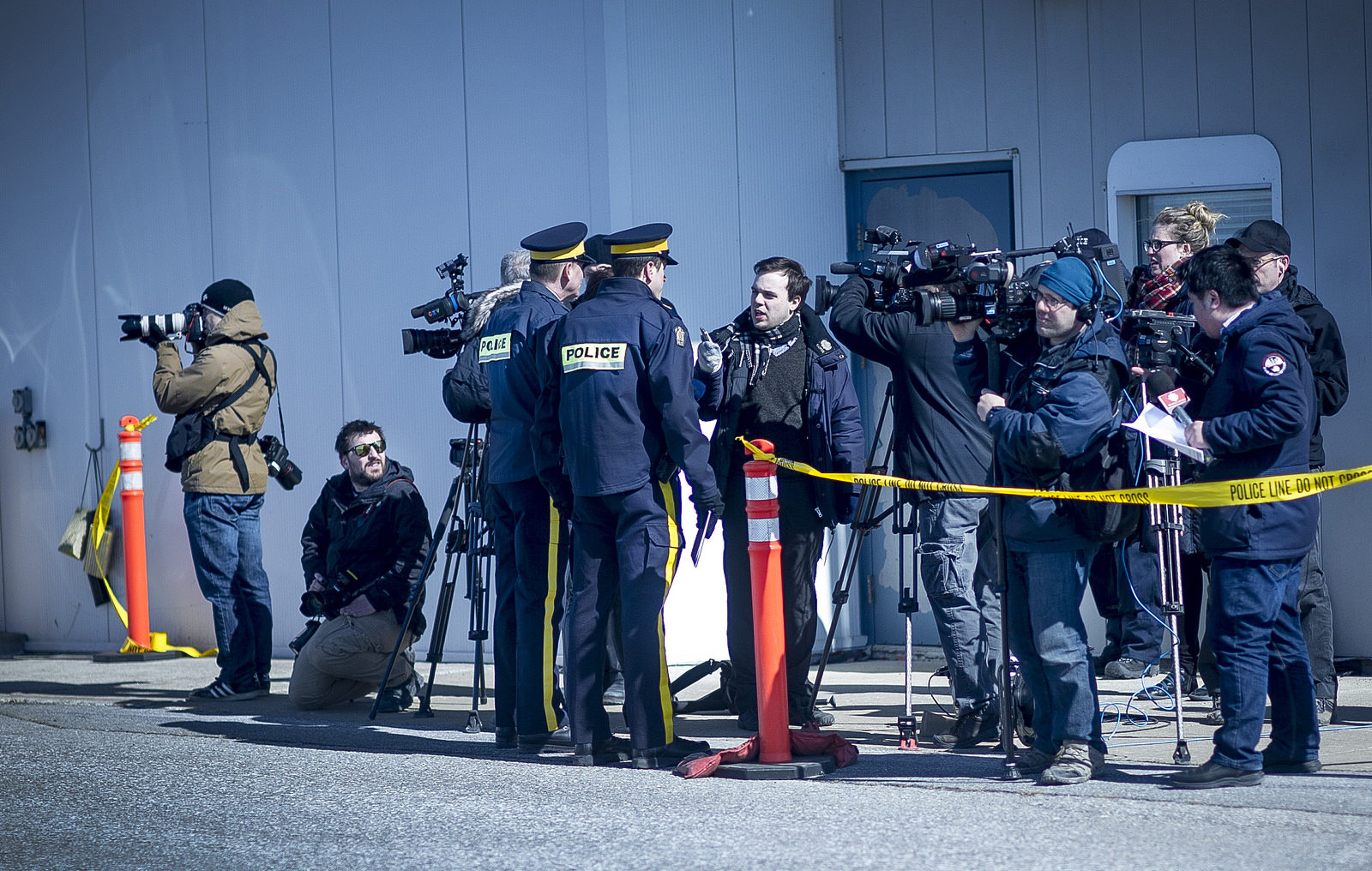 The first time Kim Bolan received a death threat was in 1997, but over the years she has received many. A single gunshot through her home's window on an early December morning was a reminder that any job as a crime journalist is a 24-hour commitment. The bullet, intended as a message to Bolan to stop sticking her nose in Vancouver's organized crime scene, was the first threat she received during her career. In 2009 she received a dead rat in the mail with a note attached saying she would be killed if she did not stop reporting on gangs in the region.
In May, Bolan wrote a story about a court trial she attended, where she was the subject in the hearing. A member of British Columbia's United Nations gang  – now a Crown witness – testified that gang members had been plotting to kill Bolan because of her reporting on their organization. Their name has been withheld under a publication ban.
"Obviously it's a bit disturbing to be sitting there in court and hearing these details," Bolan said. The gang members, who had allegedly discussed killing Bolan back in 2011, had her address and had been scouting her property. She was the only reporter in the courtroom covering the story, knowing police would not release the details of the charge and that the courts would only mention the attempt on her life in their final ruling.
For crime journalists, dealing with police is a daily part of the job. But recently, reporters like Bolan have been increasingly pushing back against police in Canada, who they say are withholding more and more information about crime cases. In some instances, reporters are putting their lives on the line to get stories out to the public.
"Half the time they don't have a specific [law] that's really about withholding – it's just a broad interpretation that I would argue isn't the appropriate interpretation," Bolan said in an interview, adding that she's noticed an increased tendency to withhold the names of murder victims.
As a result, she argues, community members aren't aware of violent crimes in their neighbourhoods.
"I believe there's too much secrecy with police in B.C. –– that's certainly been my experience," says Bolan. "They always withhold as much as they can it seems, and likewise we have a problem with secrecy in the court, and publication bans that are inhibiting our abilities to do our jobs properly and inform the public about what's going in major cases."
Reporters have responded by resorting to new tactics to get information about crimes that affect their communities and challenge police institutions across Canada.
Bolan, who has been a reporter at the Vancouver Sun for nearly 30 years, has started the blog REAL SCOOP News, a section of the Vancouver Sun dedicated to crime news. Bolan's beat focused on organized and gang-related crime that has intensified since the early 2000s, with more drugs and more gun violence making their way onto the streets of British Columbia communities. Bolan says that she is one of the few reporters to consistently focus on the topic
"Oftentimes, people assume that those stories are perhaps small and insignificant," she says. "But the reality is that oftentimes those stories have bigger connections to other communities in the region in Canada, or in some cases, other parts of the world."
…
Lisa Taylor, a journalism professor at Ryerson University, has been studying issues related to police withholding of information. Her research has focused on police services that are not releasing the names of homicide victims. As of May, for example, Edmonton police had not named eight out of 17 victims in homicide cases. The RCMP Alberta Headquarters has withheld two out of 14.
"Our construction of crime is that crime is not just a wrong that one person commits against another: crime is a wrong that one person commits against society at large," says Taylor, who presented her research at a recent conference on the future of local journalism. "So this whole idea of holding back names of victims and saying 'it's just private' is the first problem."
RCMP protocols state that names can only be released if the dead individuals give permission or if the disclosure helps with the investigation. More recently, a new framework introduced in Alberta is supporting this similar RCMP protocols and is being opposed by many in Canadian media. Going forward, a list of criteria will have to be filled before releasing the name of a victim to ensure what they consider to be a privacy violation is defensible.
Although the laws and legislation have not changed in more than a decade, in the past few years less information is being released by some police. This mainly has to do with how different divisions and levels of police interpret the laws.
"A piece of legislation is a complex thing," says Taylor. "There is nothing that tells us that this information needs to be withheld. But, there's nothing that explicitly says this information needs to be released."
Releasing important information can be essential in a police investigation where a suspect is not named, Taylor said. For many journalists, being able to provide names also make their work more credible than a broad-brush approach. For families, being able to provide a name can also be a way to help put a face to a crime that might otherwise be swept under the rug in their community.
"We often assume that no victim's family wants their loved ones mentioned, and I think that's probably true nine times out of 10," says Taylor. "But then there's the tenth family who desperately wants you to know that their loved one wasn't just some guy shot in a park. He was a dad and a member of a church and a great soccer player and a million other wonderful things."
In addition to withholding key information, police across Canada have even been encrypting their scanners, making it more difficult for journalists to monitor what is going on.
…
The lack of transparency has consequences. In Thunder Bay, Ont., for instance, journalists and community members have been demanding more information from the police. James Murray, an editor at NetNewsLedger, says that the public, and Indigenous communities in particular, have major issues when it comes to trusting the Thunder Bay Police Service.
"About six, seven years ago Thunder Bay really was slow on releasing information on almost any crime that was going on," he says. "Nishnawbe Aski Nation, Treaty 3 and Rainy River First Nations are now complaining that police are coming to judgment really quickly without doing any investigation."
For Murray, crime reporting in Thunder Bay is still evolving. But the lack of transparency in crime, specifically the lack of information about homicides, is disturbing for many people. And that means journalists have an even bigger role when it comes to chasing down the truth and putting pressure on the police to release more information.
According to Murray, in some cases in Thunder Bay, police have been so slow to release details of victims, that the family and community has put up a full memorial page on Facebook before the police have even confirmed the death to the media. This, combined with serious questions about the quality of police investigations, mean reporters are digging deeper into these cases.
"Over and over and over again there's been young people come down to Thunder Bay to go to school and end up in the river –– all (of them) Indigenous youth—Ojibwe kids from the north, Cree kids from the north. The usual explanation is that it's not a crime. First Nation communities are going, 'Our people are around water all the time, fishing and they're hunting and in boats. How [do they] all of a sudden come to Thunder Bay and drown?'" said Murray.
Until police release more names of victims, or release more information related to serious crimes in general, journalists will increasingly continue to rely exclusively on sources outside of the police forces to write their stories.
…
Sarah Ladik is a reporter in Moose Jaw, Saskatchewan but worked in the North-West Territories for five years.
"We've had cases where so much was held back that we couldn't report," she says. "If the family wants to talk to me and the family is cool with having their name out, then we're out and that's it. You don't need the police to confirm with you.
"[Police are] not your only way of getting that information and yeah, it's a bit tougher to track down families. It's an emotional thing. It's rough. It's unpleasant. Generally they're more difficult to find, but it's still worthwhile, that's the job."
Journalists can mine information from social media, especially Facebook, to track down family and friends, they can cover court proceedings where names are made public, or they can work their sources in the community to get around police obstacles. Taylor noted, however, that these strategies can also complicate relations with police sources.
"If a journalist is told that the name is not being released by the police but then the journalist uses her own methods and gets that information and publishes it," she says, "she may risk alienating the police and then find herself in a position of being further frozen out, and given even less information than she was getting before because that seems to be just how subjective these things are." Taylor added, however, that it's important that journalists not let one voice control the narrative, even if it's the police.
Bolan continues to report on organized crime in Vancouver because she knows no one else has a beat as unique as hers. She's still following the UN gang, even though publication bans stop her from publishing the name of the man who testified about plotting her murder.
In the meantime she keeps fighting for information on behalf of her readers: "Police and court officials sometimes forget that they're paid by the public and therefore should be accountable to the public," says Bolan. "We expect a certain level of transparency in all other government operations, but suddenly when it comes to police and courts, secrecy is okay. I don't accept that as a journalist."