BY JASMINE BALA
Staff Reporter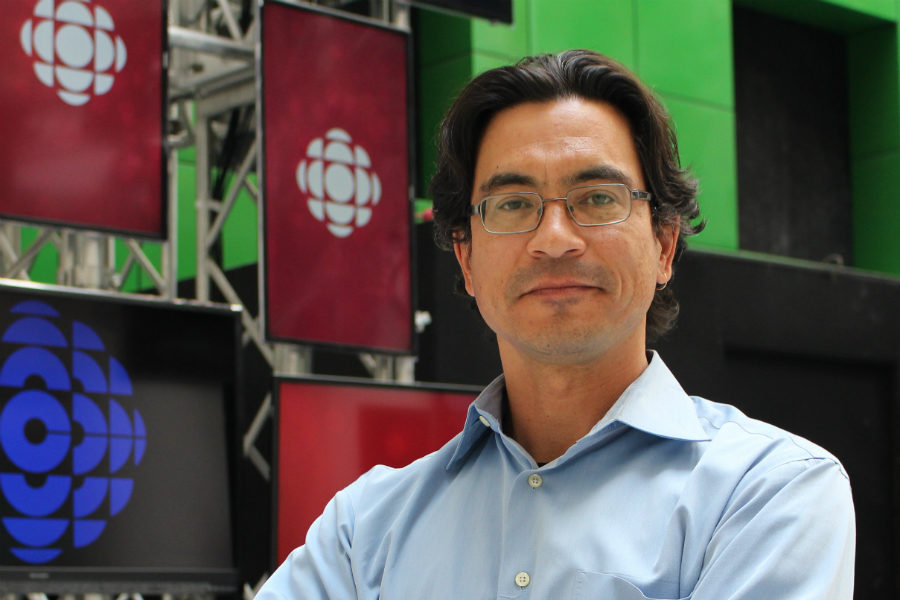 Reporters working in Canadian newsrooms should receive diversity training just like police officers and health workers do says Duncan McCue, the newly appointed Rogers Visiting Journalist at the Ryerson School of Journalism (RSJ).
McCue said the training is necessary because journalists who don't understand indigenous cultures can cause harm while reporting on these communities.
"The reason that police officers get cultural training is because if there's a cultural misunderstanding in the middle of the street, someone could wind up getting shot. The reason why health workers get diversity training is because if someone is misunderstood … someone could die in an ER room over a cultural misunderstanding," said McCue.
"But I would suggest that the impact of repeating stereotypes and misrepresentations in the mainstream media about cultural groups — in my case, indigenous groups — is every bit as harmful as some of those dire situations that police and health workers face. So, it's important that we as journalists have a cultural baseline when it comes to the communities we serve."
McCue is Anishinaabe, a member of the Chippewas of Georgina Island First Nation in southern Ontario, an adjunct professor at the University of British Columbia (UBC) and the new host of CBC Radio One's Cross Country Checkup. As a reporter for CBC's The National, he was part of an award-winning CBC Aboriginal investigation into missing and murdered indigenous women and girls.
In his capacity as the Rogers Visiting Journalist, McCue will work with Ryerson journalism instructors on developing new approaches for reporting on stories involving indigenous communities. He will also assist in the revision of the RSJ's curriculum.
"[McCue will] have an influence in a number of different ways," said Janice Neil, the school's chair. "He brings his experience — not just 17 years as a journalist and not just his experience being an indigenous person in Canada, but putting those together [to teach journalism] with an understanding."
McCue said that coverage of indigenous communities needs to go beyond stereotypical accounts of poverty and land claims.
"There's all kinds of diversity within the indigenous community itself and many, many different stories to tell," he said, "and so to simplify our stories into poverty, road blocks or land claims is to only give one small slice of life."
Although indigenous issues still aren't being covered enough, the amount and quality of coverage has improved, he said, noting that news organizations and schools are responding to the Truth and Reconciliation Commission's (TRC) recommendations.
The TRC, a component of the Indian Residential Schools Settlement Agreement, investigated the removal of indigenous children from their homes in placement into residential schools in the 19th century. The country's last residential school closed in 1996.
In the Atkinson lecture she delivered last winter at the RSJ, TRC commissioner Marie Wilson said the commission's mandates were to inform the public about the residential school system and to help its survivors heal and reconcile with the rest of Canadian society. As part of the process, the TRC issued 94 calls to action, including three that relate to journalism. It called upon the federal government to restore and increase funding to CBC/Radio-Canada so that the public broadcaster can do a better job of reflecting the diverse perspectives of Aboriginal peoples and for the Aboriginal Peoples Television Network to support reconciliation. It also called for Canadian journalism programs and media schools to require students to be educated on indigenous history.
"The Truth and Reconciliation Commission was, in a way, almost like flipping on a switch," said Neil. "It's kind of been like a real wake-up call [for journalists and all Canadians]."
Ryerson's journalism school is responding to the TRC's call for action with a new online course designed to teach students about indigenous history and how to report accurately on stories involving indigenous communities. Reporting on Indigenous Issues, the online course taught by associate professor Joyce Smith, will be the first of its kind at the RSJ. It will be available for third-year and fourth-year students in January. McCue will be working with Smith to create the course.
"I'm really looking forward to working with Duncan, who teaches a course like this already for UBC," said Smith. "It's going to be great having him here to consult and to get a better idea of what has worked for him and what can work for us going forward in the future as well."
Smith said she wants students who take this course to walk away with a better understanding of indigenous history and more confidence in reporting on these issues.
"As journalists, a big part of our job is making sure that we do our best to inform the public about things that will influence proper policy," she said. "It's not just [about] teaching young journalists; it's teaching the people who will go on to tell the rest of us these important stories."
The school is also getting input from McCue on a new website that will be a resource for students who are covering indigenous communities.
McCue said he hopes to introduce more hands-on experience with coverage of indigenous issues into the RSJ curriculum.
"My advice [for students] is always just get out and do it. In a classroom setting, it's a safe environment to make mistakes. Go out, meet indigenous people – many people haven't – try to find a story, and learn more about the story," he said. "All of those things will teach you more than I could ever teach you lecturing at you from the front of the classroom. Bring those experiences back and we'll break them down, talk about them, discuss them, think about ways that we could have approached things better, applaud the great things that we did do, and that is the most valuable thing."
He said that he is optimistic that reporting on indigenous issues will be better in the future than it has been in the past.
"I know that things are going to change because I've worked with journalism students for several years now at UBC and they're eager," he said. "[This] generation is going to make a difference in the way that maybe my generation hasn't and certainly the generation before [mine] didn't."