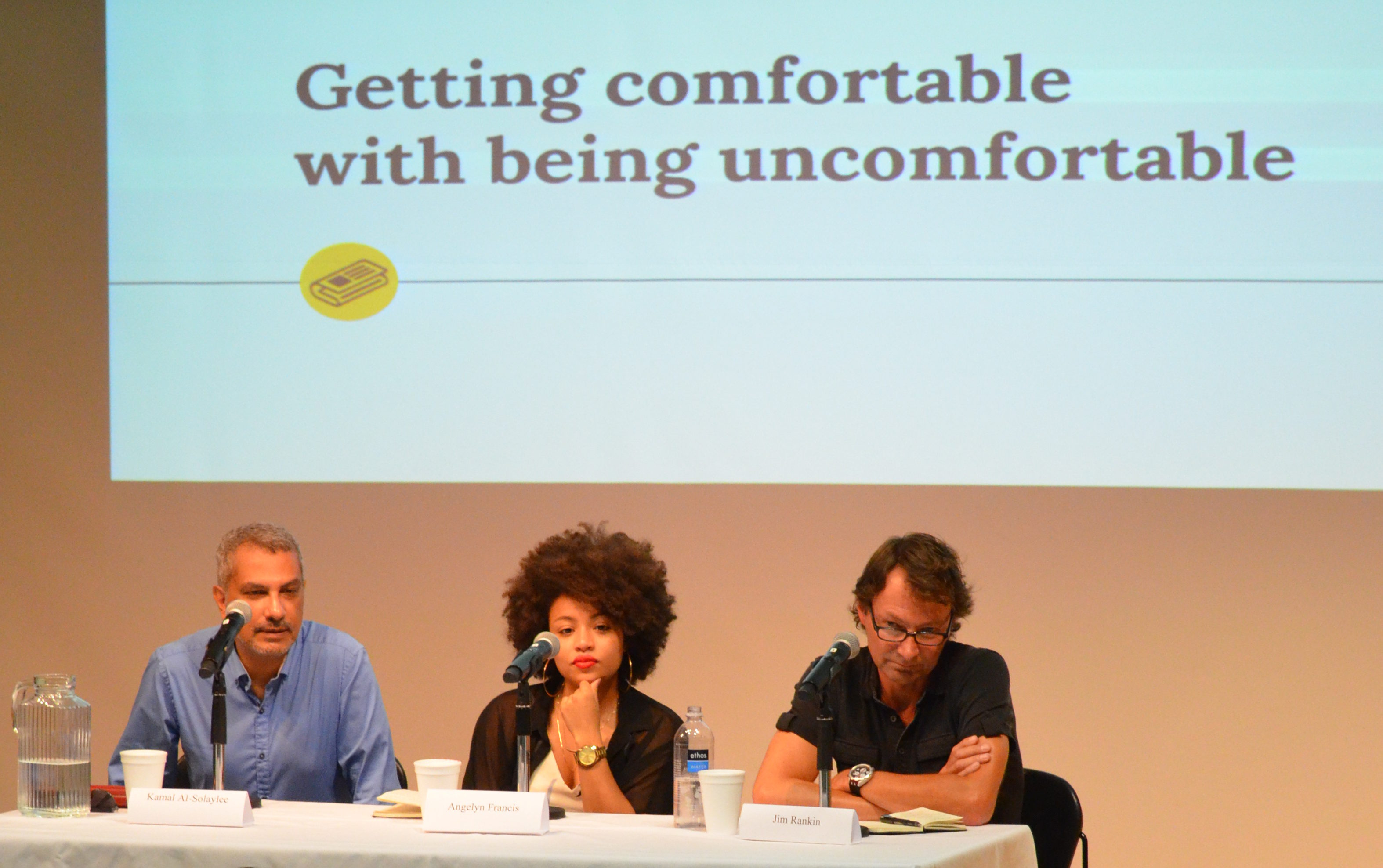 BY MADDIE BINNING
Staff Reporter
Young journalists – and even industry veterans – can feel uncomfortable reporting controversial stories on topics like race, gender and LGBT issues. Some may even shy away from reporting on these topics to avoid the social media blowback that could follow.
But feeling uncomfortable while reporting on some communities and situations is part of being a good journalist, said Toronto Star investigative reporter Jim at the Ryerson Research Centre's (RJRC) recent panel, "Getting Comfortable with Being Uncomfortable." 
"If as a journalist you're feeling comfortable all the time, you're not doing good journalism," said Rankin. "You should be able to step outside of your comfort zone."
The first RJRC event this fall, the panel attracted about 100 journalism students, faculty members and members of the public to the Rogers Communication Centre at Ryerson University. The discussion, featuring Rankin, award-winning author Kamal Al-Solaylee and Angelyn Francis, associate editor for The Huffington Post, focused on how journalists can deal with discomfort while reporting on controversial issues and the importance of covering difficult topics.
The key to covering such stories is taking the time to get to know sources and neighbourhoods, Rankin said.
"People generally are generous and they want to share their stories," he said. "And there's nothing that beats getting out into the communities that you are writing about."
Beginning in 2002, Rankin led a team of Toronto Star reporters in investigating police carding in Toronto. His award-winning coverage showed that random street checks targeted a disproportionate number of black and brown men in the city. Subsequent reporting on the issue led him to the Weston-Mount Dennis neighbourhood in 2012, an area with a significant black population and a heavy police presence. During the panel, Rankin explained that reporting on the carding story from that area of Toronto involved visiting community hubs and acting as a "fly on the wall."
"If you go into the community, spend time there, gain trust, don't go in with your cameras blazing. Take time to get to know people – that's the way that you establish relationships," he advised.
He said that it can be difficult for reporters to know they're on the right track when reporting on unfamiliar groups or places and suggested it helps to have a contact inside the community, even if the source won't be directly quoted in the story.
"Go find a 'rabbi,'" said Rankin. "It's someone who knows everything about the thing you're about to write about. Sit down with them and say, 'Tell me everything I need to know.'"
These community insiders can also be used to test whether a story is accurate and to follow up on stories later, he said.
"Don't just leave a story that's an important story and walk away," he advised.
Al-Solaylee, a professor at the Ryerson School of Journalism (RSJ), said that he travelled to 10 countries to write his recently published book, Brown: What Being Brown in the World Today Means (to Everyone).
"Being in the world that you wish to write about, that you wish to cover, is, to me, the most valuable thing," said Al-Solaylee.
He said that one challenge he faced while researching his book was writing about people that he often had "nothing in common" with. Because, as he explained, he was interviewing construction workers, temporary workers and domestic workers from a place of "privilege" as a university professor, it was even more important to him to see their experiences firsthand.
"Let [sources] decide where and when they want to meet and if you're flexible, that really helps," he advised, noting that many people were eager to talk to him but also anxious about it. "I meet a lot of people at their comfort zone instead of asking them to come to me."
Francis, a recent graduate from the RSJ and currently a freelance journalist, stressed that that it is important to tell difficult stories.
"Because of the racial tensions in the United States, Canadians are too quick to write off the fact that racism exists in Canada," said Francis, who was involved with multiple student groups such as the Racialised Students' Collective during her time at Ryerson.
"Most of the stories that I write about race pertain to Canada, so [racism] definitely does happen here," she said. "Just don't let those stories pass you by and say that, 'Oh, that's not necessarily something that's happening here.'"
She also urged journalists to do their homework and thoroughly research the topics they cover.
"It's definitely important for us as journalists to learn the skills of interviewing, to learn the skills of how to tell a good story and how to think critically," said Francis, "but you need to have a little bit of background in what you want to write critically about."
Watch the full panel below: