By SHANNON CLARKE
Special to the RJRC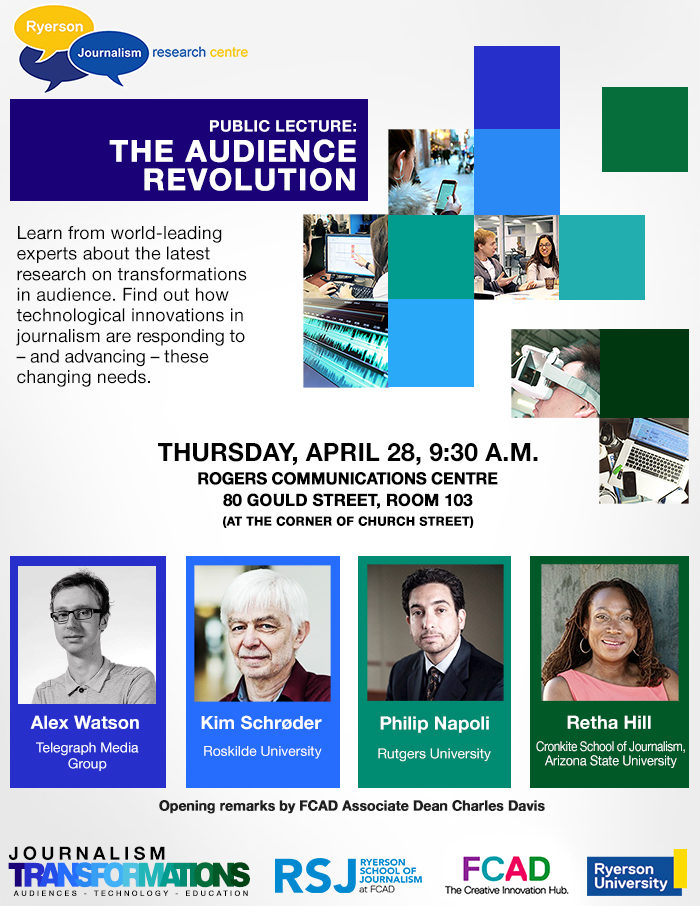 Changes in how the public consumes news and the implications of these changes for journalism and journalism education will be the focus of an April 28 colloquium hosted by the Ryerson Journalism Research Centre.
The meeting of international scholars, journalists and educators is the first in a series of Journalism Transformations colloquia organized by the RJRC. The morning lecture, which is open to the public, will feature presentations that examine changes in local news coverage, audience behaviour and technology.
The day begins with "The Audience Revolution," a public panel with Philip Napoli, professor and associate dean of research at Rutgers University; Kim Schrøder, professor of communications at Roskilde University in Denmark; Alexis Lloyd, creative director of The New York Times R&D Lab; and discussant, Retha Hill, a professor at Arizona State University's Cronkite School of Journalism. Rich Gordon of Northwestern University and Carrie Brown of City University of New York will also be a part of the day's events.
The panel discussion is an opportunity for journalists and non-journalists alike to hear how newsrooms are adapting to the evolving media landscape and the interests of their audiences.
Asmaa Malik, an associate professor of journalism at Ryerson's School of Journalism, said the idea for the event grew out of a discussion with co-organizers Gavin Adamson and Ivor Shapiro, and other journalism professors on the changing value proposition of journalism school. As the industry changes, more prospective students (and their parents) question what comes after a journalism degree.
Malik said the job of educators now is to prepare journalism students for careers both inside and outside of traditional newsrooms: "It's not like we're training reporters or editors; we're trying to train people who are fully-equipped for whatever's ahead and we don't know necessarily what's coming down the pipe."
Napoli, the principal investigator for the News Measures Research Project at Rutgers, will discuss how news has responded to audience behaviour, with an emphasis on how those changes affect local news consumption. Schrøder will contribute his research, the bulk of which was conducted before the digital era began, examining international news consumption shift away from traditional mediums to digital platforms. Alexis Lloyd will discuss her experience at The New York Times, reflecting on how technology engages news audiences and enhances journalism.
Update: Alex Watson, of The Telegraph Media Group in London, will replace Alexis Lloyd on April 28. He is The Telegraph's head of product and a former technology journalist and led the team behind the creation of the newspaper's new content management system.