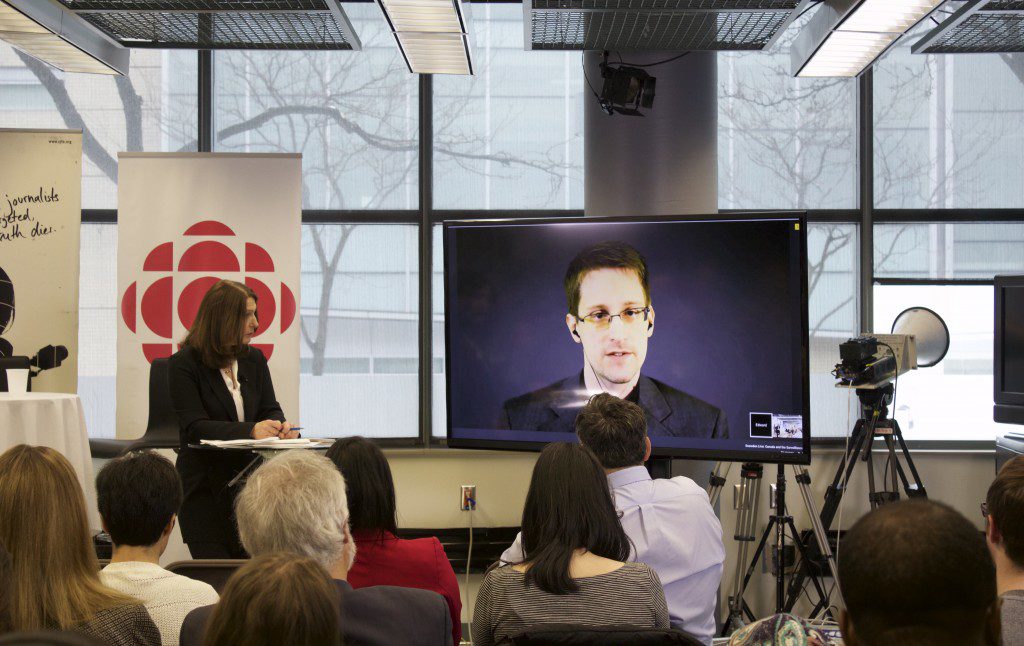 By ROBERT LIWANAG
Staff Reporter
Canadian intelligence agencies have one of the weakest oversight mechanisms in the West and that's a serious concern in light of proposed new anti-terrorism legislation, Edward Snowden warned during a live interactive broadcast at Ryerson's School of Journalism.
Describing Bill C-51 as equivalent to the "American Patriot Act," the United States National Security Agency (NSA) whistleblower said that the legislation is an overreaction to national security risks.
"They're trying to say, 'Look, we face an extraordinary national security risk that poses an existential threat to Canada,'" Snowden said from Russia. "And we know that's not true because, of course, terrorism kills fewer people than lightning strikes and bathtub falls."
Among other things, Bill C-51 proposes to increase the power of the Canadian Security Intelligence Service (CSIS) to monitor suspected terrorist activities online, expand the use of no-fly lists, give law enforcement officials more powers to arrest citizens connected to suspected terrorist activities and increase the length of preventative detention from three days to seven.
As it begins studying Bill C-51, the House of Commons committee has called former politicians and spies to testify. However, the witness list does not include four former prime ministers – Paul Martin, Jean Chrétien, Joe Clark and John Turner. Snowden described the committee's decision to exclude them as "pretty amazing," since all four have been publicly critical of the bill and have had access to classified information in the past.
He also criticized the analysts and policy makers who have been debating the value of the proposed anti-terrorism measures because they have no direct access to government documentation, and rely upon the news media for reference material.
"If we never get an opportunity to understand these programs, to discuss these programs and ultimately, to cast our votes on understanding the kinds of policies that our representatives in government are promoting, we're starting to become increasingly divorced from our government," said Snowden. "They make the decisions there on our behalf but without our knowledge."
He went on to express concern about the large amount of information being collected from Canadian citizens, and how these data sets will be used if Bill C-51 is passed. Mass surveillance, he noted, has never been an efficient way of preventing terrorist attacks because it is difficult to make connections between individual pieces of data.
The Canadian government, Snowden said, should not pass laws on the basis of rare external threats.
"What we need responsible members of government to advocate is resilience in our policies, our politics and our societies," he argued. "We need to accept that monstrous crimes will occasionally happen."
Snowden made his comments during a March 4 live stream – entitled "Snowden Live: Canada and the Security State" – that was sponsored by Ryerson University, CBC and Canadian Journalists for Free Expression (CJFE). About 170 people attended the event, which was moderated by Anna Maria Tremonti, host of The Current on CBC Radio One.
Snowden said that basic encryption technologies are available for people who are wary of surveillance and want to protect their private lives. Signal, an iPhone and Android messenger application by Open Whisper Systems, for instance, allows for private communication between users.
While similar apps may not protect users from "metadata" – basic information about data – they do prevent specific content from being intercepted. These sorts of technologies, Snowden said, will benefit journalists who rely on it when communicating with confidential sources.
The live stream event coincided with the unveiling of the Snowden Surveillance Archive, the world's first fully searchable archive of all the Snowden documents that have been leaked and published to date. Created in partnership with CJFE and the Politics of Surveillance Project, the archive is meant to be an international tool for journalists, students and citizens alike to share information and increase public knowledge. It also includes supplementary U.S. government documents that give more insight to the released Snowden documents.