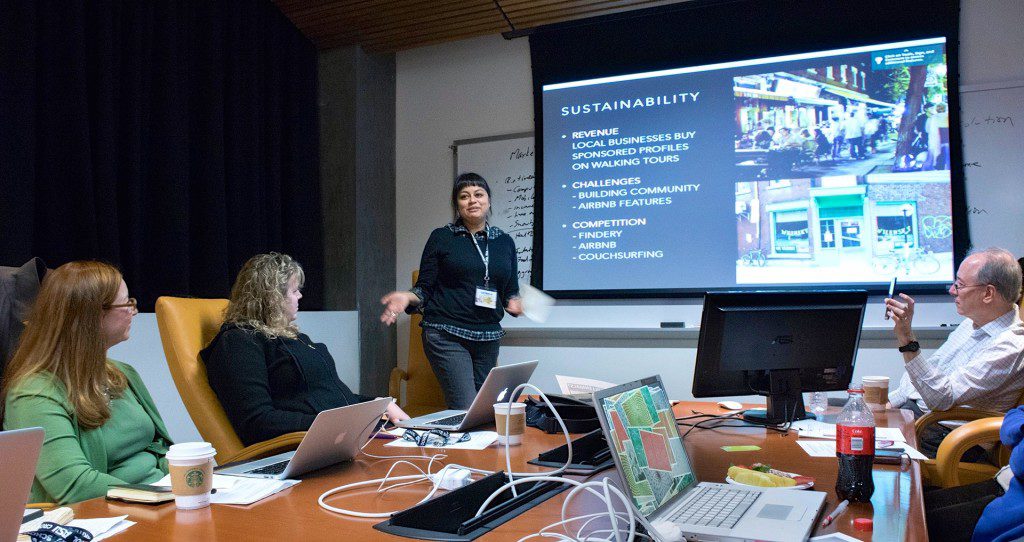 By ROBERT LIWANAG
Staff Reporter
Last month, Ryerson journalism professor Asmaa Malik stepped out of the classroom and into a simulated boardroom to pitch her idea for an app for cosmopolitan travellers. The pitch was the culmination of a five-day fellowship at Arizona State University's Cronkite School of Journalism, designed to help educators teach entrepreneurial journalism.
Funded by the Scripps Howard Foundation and led by technology writer and ASU professor Dan Gillmor, the fellowship brought 15 professors from across North America to the university's downtown Phoenix campus and introduced them to investors, journalists, entrepreneurs and fellow academics to learn more about the world of media start-ups. At the end of the week, the fellows pitched their own start-up ideas as if they were courting potential investors.
Malik says the experience has shaped how she will teach an undergraduate course on media entrepreneurship, which will be offered at Ryerson's School of Journalism next year. This term, her graduate Journalism Workshop class is also using the start-up model to develop and pitch their ideas for products and services that address challenges facing the news industry. Halfway through the semester, the groups will pitch their ideas to the rest of the class, and by the end of the semester, they will pitch their ideas before an industry panel.
"It's really important to have entrepreneurial skills to figure out what your strength is," said Malik. "What do you do best and how can you leverage yourself, your brand and your identity into building a career for yourself and not being reliant on the vagaries of the industry?"
Malik, who was the former deputy managing editor of the Montreal Gazette, said that her main takeaway from the fellowship was the importance of looking at business models and considering the sustainability of products and services. She also said that speakers emphasized that the execution of an idea is still paramount.
"Ideas on their own are nothing, and you shouldn't feel worried if you have an idea to do something and it already exists, but you should think about how you're going to do it better," said Malik. "You just have to have a different way of looking at it, a different process, to get a better goal."
With technology advancing at such a rapid pace, entrepreneurial journalism has become much more popular over the last few years, inspiring journalists to start their own digital projects. In 2010, for instance, Columbia University established the Tow Center for Digital Journalism. The City University of New York School of Journalism also has a graduate program in media entrepreneurship.
Malik says she would like to help RSJ students become more aware of innovation opportunities across campus, such as the Digital Media Zone. "How can they get involved in the entrepreneurial culture at Ryerson, which is quite strong already?" she said. "There is really a need for us to put our (journalism) students out there as well."