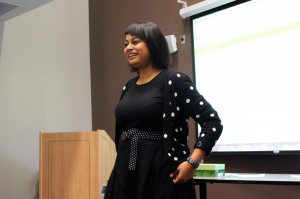 By ROBERT LIWANAG
Staff Reporter
When Asmaa Malik was the deputy managing editor of the Montreal Gazette, the city was signing contracts to purchase approximately $1.5 billion in goods and services a year. But the municipal government was not making details of the deals accessible – no searchable database existed and that meant residents had to look through weekly executive committee resolutions on the city's websites to find information. The Gazette's solution was to simply create its own database of municipal contracts, with the help of a third-party team.
"In terms of open data, there are a lot of people promoting the idea that data should be freely available for everyone to use and re-publish as they wish," says Malik, an assistant professor of journalism at Ryerson University. "Why? Well, it ensures transparency in all levels of government, and it makes the barrier to access to information less specialized. More people will actually be able to get information."
The database helped the Gazette produce more coverage of municipal contracts, including one 2011 story that revealed just 10 of the city's 12,629 suppliers received almost 25 per cent of the city's construction contracts over a five-year period. Apart from the Gazette's investigations, Malik said, the goal in setting up the database was to allow any resident to analyze the data, flag items that he or she thought should be investigated and even pitch story ideas.
Malik, who led the Gazette's mobile-first direction, delivered her remarks on Oct. 23 to a Chang School for Continuing Studies class entitled Degrees of Democracy. In addition to her presentation, the 24 students, most of them retirees from various professional backgrounds, also heard from former Globe and Mail editor-in-chief John Stackhouse.
Malik said that since Canada implemented the Access to Information Act in 1983, there has been a push-pull relationship between what the government is willing to make public and what kinds of information citizens want to access. A significant development occurred in 2011, when the Canadian government committed to an open data pilot project that aims to make public disclosure of information mandatory in all federal departments by 2015.
"There's a really big international push for government data. It's a huge part of our digital culture. There's a real craving from people to make sense of information on a cultural level," Malik observed.
She said that governments' public commitments to making data available have spurred the creation of third-party apps, including through the Canadian Open Data Experience (CODE), the first Canadian government-sponsored "hackathon." The event, which lasted from Feb. 28 to March 2 earlier this year, featured 931 coders and web developers from across the country, going through thousands of datasets.
CODE resulted in the creation of 111 new apps. The winning app, newRoots, matched Canadian residents searching for a new home with a variety of location choices. Created by Kitchener, Ont.-based development team Electric Sheep, the app was made using information from available datasets, including income, crime rates, visible minority populations and climate.
Malik warned, however, that the Canadian government's lengthy history of denying access to information requests as well as its tight control over who speaks on behalf of government are two practices that prompt questions regarding its commitment to open data.
"It does seem like a contradiction in a way, because it's still the government that has the control," Malik said, noting that many documents are closely edited by government before their release. "If you put the information out there, you (journalists and members of the public) need to have access to the people who've created the information. You need to ask questions. You need to understand how they came to find those results. If you find errors in the data, you need to be able to go back and talk to them."
Malik said app developers who do not have government partnerships play an important role in open data culture. Open North, for instance, is a non-profit organization that aims to increase civic participation, government transparency and accessibility to data. Another site based on datasets, Open Parliament, allows users to find information about their local member of Parliament, including laws they propose and quotes from their speeches in the House of Commons.
"There's no point in the government not jumping on the open data movement. There's no reason for them not to because they still control the information that they're giving out. In the coming years, there's going to be even more of a push. 'What's being opened now?' That's always been a question from journalists, historically," said Malik.