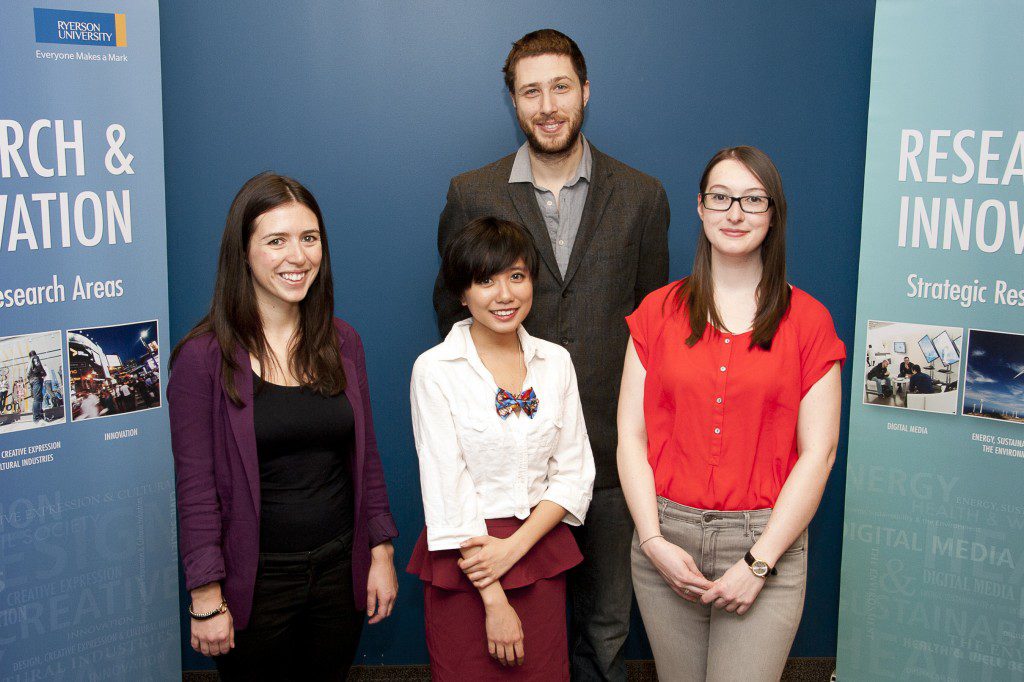 By JACKIE HONG
STAFF REPORTER
Four Ryerson students, three of them in journalism, have each won a $3,000 prize and an invitation to a special communications workshop in Victoria this June after creating media pieces about social science research at Ryerson.
First year journalism student Alfea Donato and journalism master's students Veronique Herry-Saint-Onge and Sarah-Joyce Battersby were all awarded the prizes after entering a contest established by the Social Science and Humanities Research Council (SSHRC). The federal agency provides funding for university-based research and graduate training in social sciences. The fourth winner was communications and culture PhD student Dan Browne.
The contest challenged Canadian university students to create a short video, audio piece, article or info-graphic about a SSHRC-funded research project at their respective schools.
"The Storytellers campaign celebrates the talented students from across Canada who have shone a light on the exceptional contributions of the social sciences and humanities through excellence in research communications,"  Chad Gaffield, president of the Social Sciences and Humanities Research Council, said in a  press release. "Their creative and compelling insights into how SSHRC-funded research is helping to create a better future for Canada and the world are truly inspirational, and effectively illustrate the promise of our future leaders."
Twenty-five prizes were available. Along with the cash, the 25 winners will receive two nights' accommodation in Victoria and an invitation to attend the 2013 Congress of the Humanities and Social Sciences workshop in June. As well, winners get to compete in the "Storytellers Showcase," where they will pit their storytelling skills against one another for a chance to give a featured presentation in October at the World Social Science Forum in Montreal. Wendy Cukier, Ryerson's vice president research and innovation, said the university will pay students' travel costs to Victoria.
The contest was promoted to journalism students through an email from the Ryerson Journalism Research Centre.
"It was a perfect opportunity for students to display their storytelling skills and to highlight their own research as well as the research of other Ryerson faculty members," Ryerson Journalism Research Centre  director professor April Lindgren said in an email.  "We're thrilled with our students' strong showing,"
The winner and their stories were highlighted in a university press release.
Alfea Donato: A first-year School of Journalism student, Donato created a video exploring the work of criminal justice professor Emily van der Muelen. Van der Muelen's research examines the effects of video surveillance on women living in marginalized communities and the connection between the presence of video surveillance and their perceived safety, or lack thereof.
"I'm so glad Emily van der Meulen's research into how video surveillance affects women has been nationally acknowledged as important… The perspectives of marginalized women are often overlooked despite their validity. To have SSHRC acknowledge that means so much," Donato said to the RJRC in an email. "Personally, the cash will help me pay off half of my tuition so that's a load off my mind. I really appreciate Ryerson paying for my trip to Vancouver because I've never taken an airplane before and wouldn't have the opportunity without the school's help."
Veronique Herry-Saint-Onge: Herry-Saint-Onge, a master's student in the School of Journalism,  created an audio-visual slideshow about her own research on the history and experience of Yukon women in politics, as part of the larger conversation on Canadian women in politics.  The slideshow features women who have been members of the Yukon Legislative Assembly and other women with significant achievements in Yukon politics.
Sarah-Joyce Battersby: A master's student in the School of Journalism, Battersby created a podcast on the research of Ryerson master's of psychology student Elizabeth Wong that explores the stereotypes of female math performance. Battersby's piece focuses on Wong's passionate expression of and dedication to her area of research.
Dan Browne: A PhD student in Ryerson's Communication and Culture program, Browne created a video on the work and research of Ryerson professor Irene Gammel, Canada Research Chair in Modern Literature and Culture. Gammel's research on the life and writings of Lucy Maud Montgomery has helped establish the studies of Montgomery's work as an internationally recognized academic field.